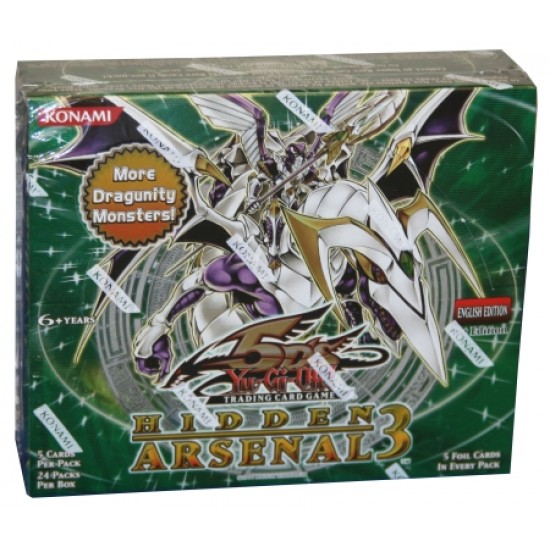 Yu-Gi-Oh 5D's Hidden Arsenal 3 1st Edition Booster Box, 24/Pack
| | |
| --- | --- |
| Product Code: | YGO-HIDDENARSENAL3-1E-BOX |
| Brand: | Konami |
| Availability: | 0 |
| Shipping: | Ships worldwide via Canada Post |
Naturia Barkion
Gungnir, Dragon of the Ice Barrier
Dragunity Phalanx
Naturia Cliff
Fabled Krus
24 packs per box, 5 cards per pack
Yu-Gi-Oh 5D's Hidden Arsenal 3 1st Edition Booster Box, 24/Pack

Hidden Arsenal 3 is the latest all-monster, all-foil booster set for the Yu-Gi-Oh! TRADING CARD GAME. Hidden Arsenal 3 includes a mix of monsters that work well in any Deck, plus specialized monsters for the exciting new Deck themes that are now possible!

Look for great cards like:
Naturia Barkion
Gungnir, Dragon of the Ice Barrier
Dragunity Phalanx
Naturia Cliff
Fabled Krus

Set Name: Hidden Arsenal 3
Number of Cards: 60
Configuration: 24 packs per box, 5 cards per pack
Effective December 26th, Crackerjack Stadium is offering curbside pick-up only. Please call us at 289-820-5453 to order or shop online. Face coverings are required for pick-up. Retail hours are Mon-Sat 12-5pm EST. Thank you for your support and please stay safe.