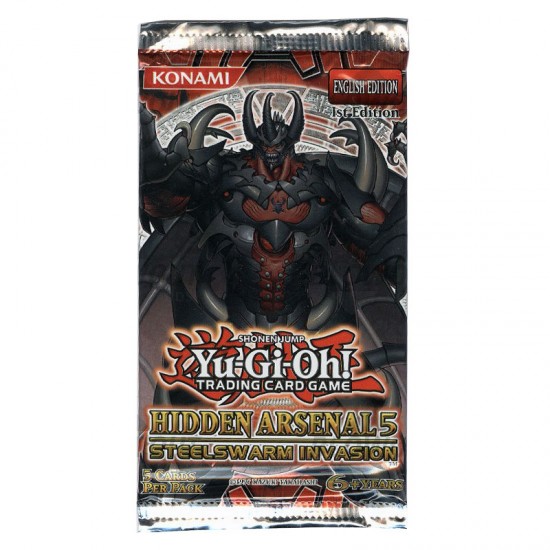 Yu-Gi-Oh Hidden Arsenal 5: Steelswarm Invasion 1st Edition 5-Card Booster Pack
| | |
| --- | --- |
| Product Code: | YGO-HIDDENARSENAL5-1E-PACK |
| Brand: | Konami |
| Availability: | 0 |
| Shipping: | Ships worldwide via Canada Post |
Gem-Armadillo
Caam, Serenity of Gusto
Gem-Knight Fusion
Evigishki Mind Augus
Gem-Knight Alexandrite
5 cards per pack
Yu-Gi-Oh Hidden Arsenal 5: Steelswarm Invasion 1st Edition 5-Card Booster Pack

After the devastation brought by Hidden Arsenal 4's Trishula, Dragon of the Ice Barrier, new monsters have emerged to grab their chance for world conquest! In Hidden Arsenal 5: Steelswarm Invasion, 6 new groups of monsters have arisen – adapted to withstand the harshest Dueling environments!
Steelswarm Roach from Generation Force demonstrated the power and tenacity of Steelswarm monsters, and now their full army is invading! Over the last year you've gotten a glimpse of the power of the Steelswarm, Vylon, Gishki, Gusto, Laval, and Gem-Knight Decks, but now they're here for real.
This 60-card all-foil booster set gives you full command of all these monster groups. And for the first time since the original Hidden Arsenal booster set, Hidden Arsenal 5 includes Spell and Trap Cards to go with them! No matter how you like to Duel, there's a new family of monsters here that's right for you!

Look for great cards like:
Gem-Armadillo
Caam, Serenity of Gusto
Gem-Knight Fusion
Evigishki Mind Augus
Gem-Knight Alexandrite

Set Name: Hidden Arsenal 5: Steelswarm Invasion
Number of Cards: 60
Configuration: 5 cards per pack