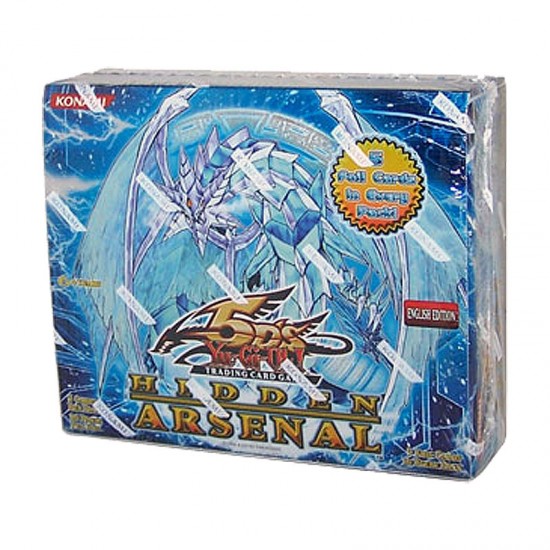 Yu-Gi-Oh 5D's Hidden Arsenal 1st Edition Booster Box, 36/Pack
| | |
| --- | --- |
| Product Code: | YGO-HIDDENARSENAL-1E-BOX |
| Brand: | Konami |
| Availability: | 0 |
| Shipping: | Ships worldwide via Canada Post |
Brionac, Dragon of the Ice Barrier
Mist Wurm
Ally of Justice Catastor
Mist Valley Thunderbird
Wrath of Neos
5 cards per pack
Yu-Gi-Oh 5D's Hidden Arsenal 1st Edition Booster Box, 36/Pack

At last, the cards Duelists have been waiting for! Fans of the Yu-Gi-Oh! 5D's TRADING CARD GAME are in for a special – and very unexpected – holiday treat. Hidden Arsenal brings you dozens of new cards previously available only in Japan. Each Hidden Arsenal pack contains 5 all-foil cards from a 30 card set.
Hidden Arsenal will include powerhouse cards like "Brionac, Dragon of the Ice Barrier," "Mist Wurm," and "Ally of Justice Catastor." Hidden Arsenal is packed with new cards for 5 Deck types: X-Sabers, Flamvells, Mist Valley, Worms, and Ice Barrier monsters.
Duelists have been waiting for these cards for ages. And now they're finally here!

Look for great cards like:
Brionac, Dragon of the Ice Barrier
Mist Wurm
Ally of Justice Catastor
Mist Valley Thunderbird
Wrath of Neos

Set Name: Hidden Arsenal
Number of Cards: 30
Configuration: 5 cards per pack