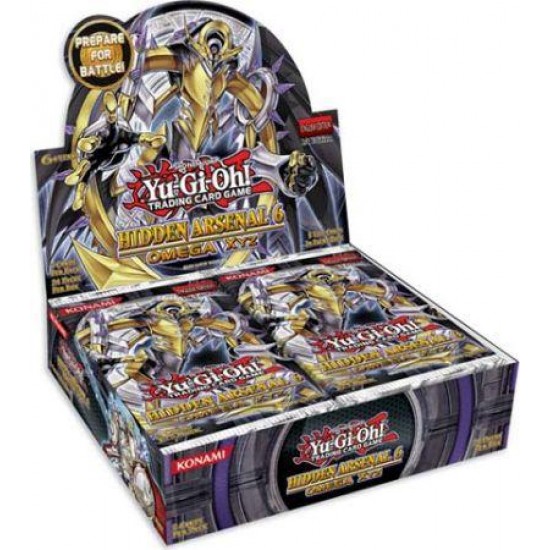 Yu-Gi-Oh Hidden Arsenal 6: Omega Xyz 1st Edition Booster Box, 24/Pack
| | |
| --- | --- |
| Product Code: | YGO-HIDDENARSENAL6-1E-BOX |
| Brand: | Konami |
| Availability: | 0 |
| Shipping: | Ships worldwide via Canada Post |
Vylon Sphere
Daigusto Phoenix
Vylon Disigma
Laval Lakeside Lady
Gem-Knight Prismaura
24 packs per box, 5 cards per pack
Yu-Gi-Oh Hidden Arsenal 6: Omega Xyz 1st Edition Booster Box, 24/Pack

Xyz Monsters have come to Hidden Arsenal booster packs, in Hidden Arsenal 6: Omega Xyz! Jampacked with nothing but foil cards, Hidden Arsenal 6 contains every kind of monster ever made, including Fusion, Ritual, Synchro, AND Xyz Monsters!
Pick make sure you have Hidden Arsenal 5: Steelswarm Invasion because this release has cards made to boost all of the themes from that set. Get your hands on Vylon Disigma, a brand new Xyz Monster!

Look for great cards like:
Vylon Sphere
Daigusto Phoenix
Vylon Disigma
Laval Lakeside Lady
Gem-Knight Prismaura

Set Name: Hidden Arsenal 6: Omega Xyz
Number of Cards: 60
Configuration: 24 packs per box, 5 cards per pack
Effective December 26th, Crackerjack Stadium is offering curbside pick-up only. Please call us at 289-820-5453 to order or shop online. Face coverings are required for pick-up. Retail hours are Mon-Sat 12-5pm EST. Thank you for your support and please stay safe.