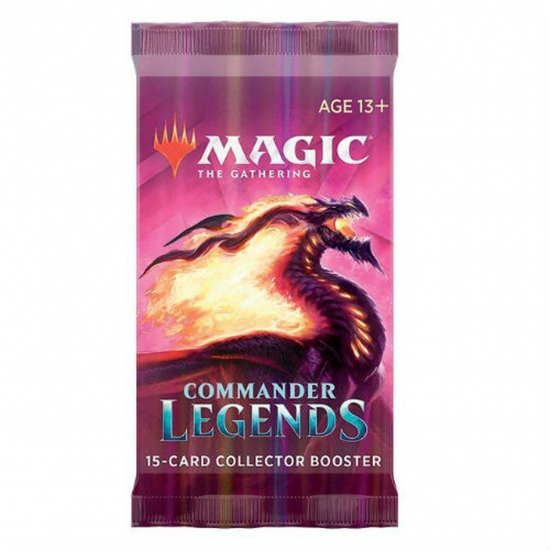 Magic: The Gathering Commander Legends 15-Card Collector Booster Pack
| | |
| --- | --- |
| Product Code: | MTG-CMR-COLLECTORPACK |
| Brand: | Wizards of the Coast |
| Availability: | 0 |
| Shipping: | Ships worldwide via Canada Post |
Jeweled Lotus
Mana Drain
Vampiric Tutor
Scroll Rack
Hullbreacher
15 cards per pack
Magic: The Gathering Commander Legends 15-Card Collector Booster Pack

Commander Legends Collector Boosters are full of legendary creatures, with five in every pack. Collect stunning showcase reprints of classic commanders and meet some of the seventy-one introduced in the set. With them comes the return of popular mechanics, like partner—play with two commanders instead of one!
Collector Boosters are the only Commander Legends packs where you can find special extended-art cards from the set. There are at least two in every pack, but you can find as many as five.
Some packs have foil extended-art cards—each Collector Booster has a 30% chance of containing an extended-art rare or mythic rare in foil.
Commander Legends debuts a special kind of foil—the foil etched card. Instead of covering the entire card, these foils have stunning metallic frames that make your commander truly shine. Get 2–3 of these eye-catching legends plus at least ten regular foils in every Collector Booster pack.

Look for these great cards:
Jeweled Lotus
Mana Drain
Vampiric Tutor
Scroll Rack
Hullbreacher

Set Name: Commander Legends
Number of Cards: 361
Configuration: 15 cards per pack
Effective December 26th, Crackerjack Stadium is offering curbside pick-up only. Please call us at 289-820-5453 to order or shop online. Face coverings are required for pick-up. Retail hours are Mon-Sat 12-5pm EST. Thank you for your support and please stay safe.