COVID UPDATE: Offering curbside only. No in-store browsing. Masks required.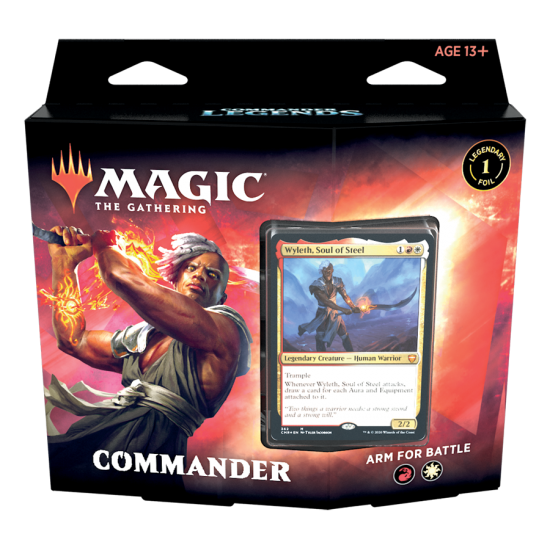 Magic: The Gathering Commander Legends Commander Deck - Arm for Battle
Product Code:
MTG-CMR-ARMFORBATTLE
Brand:
Wizards of the Coast
Availability:
12
Shipping:
Ships

within Canada only

via Canada Post
1 Ready-to-play deck of 99 cards
1 Legendary foil commander card
10 Tokens
1 Deck box (can hold 100 sleeved cards)
1 Life tracker
Magic: The Gathering Commander Legends Commander Deck - Arm for Battle

Wyleth is a masterful warrior with the unique ability to bind weapons to his soul. He believes each weapon holds a lesson that can only be learned in the heat of battle. A student of war, he doesn't hesitate to give his foes an education.
Wyleth may start small, but the Auras and Equipment in this deck can quickly make him an imposing battlefield presence. Every attack brings you a bounty of new cards to clear opposing forces, enhance your other creatures, or make Wyleth that much more dominating.
BATTLE YOUR FRIENDS. Commander is a different way to play Magic: The Gathering. It's all about legendary creatures, big plays, and battling your friends in epic multiplayer games.
100-CARD READY-TO-PLAY DECK. Designed as an introduction to Commander, these decks are ready to play right out of the box, without sacrificing the richness and depth that made Magic iconic.
THREE CARDS PRINTED FOR THE FIRST TIME. These Commander decks debut three cards each, plus they're loaded with reprints to kickstart your Commander experience.

Contents:
1 Ready-to-play deck of 99 cards
1 Legendary foil commander card
10 Tokens
1 Deck box (can hold 100 sleeved cards)
1 Life tracker

Set Name: Commander Legends