COVID UPDATE: Offering curbside and limited in-store browsing. Masks optional.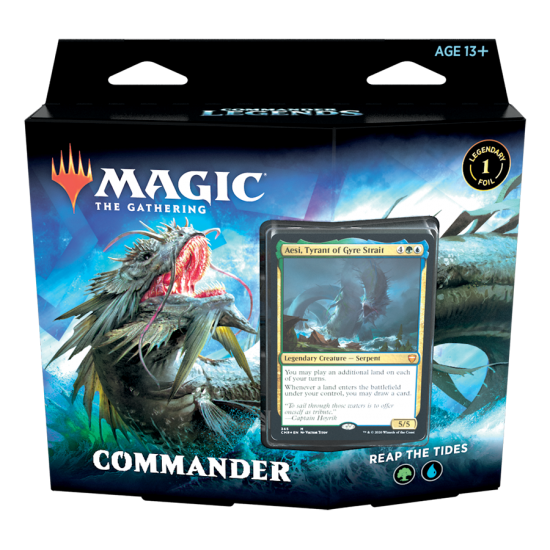 Magic: The Gathering Commander Legends Commander Deck - Reap the Tides
Product Code:
MTG-CMR-REAPTHETIDES
Brand:
Wizards of the Coast
Availability:
6
Shipping:
Ships

within Canada only

via Canada Post
1 Ready-to-play deck of 99 cards
1 Legendary foil commander card
10 Tokens
1 Deck box (can hold 100 sleeved cards)
1 Life tracker
Magic: The Gathering Commander Legends Commander Deck - Reap the Tides

Aesi is a massive sea serpent capable of demolishing entire fleets. Ocean dwellers and seafaring travelers alike respect that kind of power, and they make sure to give Aesi a wide berth.
Some may question the wisdom of giving command over your forces to a rampaging sea monster, but once the flood of extra lands and extra cards starts accumulating, your opponents will be hopelessly underwater. Control the flow of the game with spells to keep your territory free of irksome invaders.
BATTLE YOUR FRIENDS. Commander is a different way to play Magic: The Gathering. It's all about legendary creatures, big plays, and battling your friends in epic multiplayer games.
100-CARD READY-TO-PLAY DECK. Designed as an introduction to Commander, these decks are ready to play right out of the box, without sacrificing the richness and depth that made Magic iconic.
THREE CARDS PRINTED FOR THE FIRST TIME. These Commander decks debut three cards each, plus they're loaded with reprints to kickstart your Commander experience.

Contents:
1 Ready-to-play deck of 99 cards
1 Legendary foil commander card
10 Tokens
1 Deck box (can hold 100 sleeved cards)
1 Life tracker

Set Name: Commander Legends