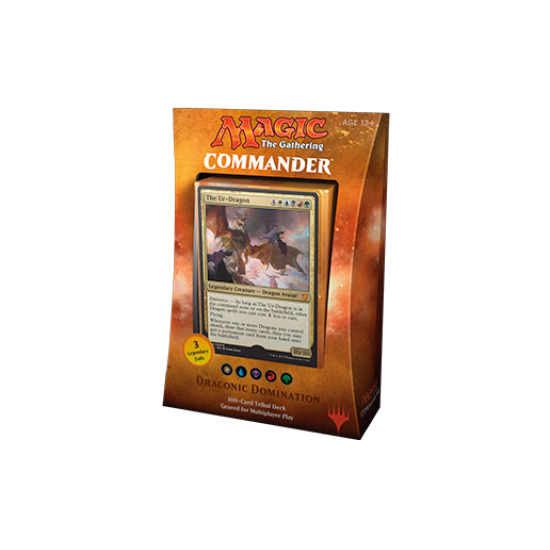 Magic: The Gathering Commander 2017 - Draconic Domination
| | |
| --- | --- |
| Product Code: | MTG-C17-DRACONICDOMINATION |
| Brand: | Wizards of the Coast |
| Availability: | 0 |
| Shipping: | Ships worldwide via Canada Post |
A ready-to-play 100-card Commander deck including never-before-printed Magic cards
Magic: The Gathering Commander 2017 - Draconic Domination

Commander returns with four new tribal-themed, 100-card decks, featuring 56 all-new Magic cards legal in Eternal formats (Vintage and Legacy). Cards from Commander (2017 Edition) will be featured and distributed in connection with a future offering on Magic Online.

Commander is an exciting, unique way to play Magic that is all about awesome legendary creatures, big plays, and battling your friends in epic multiplayer games! In Commander, each player chooses a legendary creature as the commander of their deck. They then play with a 99-card deck that contains only cards of their commander's colors. Also, other than basic lands, each deck can only use one copy of any card. During the game, you can cast your commander multiple times, meaning your favorite Legendary Creature can come back again and again to lead the charge as you battle for victory!

When time began, the Ur-Dragon began with it. As the primordial ancestor and lifeblood of all dragons, the Ur-Dragon imbues strength into dragons from every corner of the Multiverse so that they may rain endless fire and destruction upon the enemies of dragonkind.

Contents:
A ready-to-play 100-card Commander deck including never-before-printed Magic cards