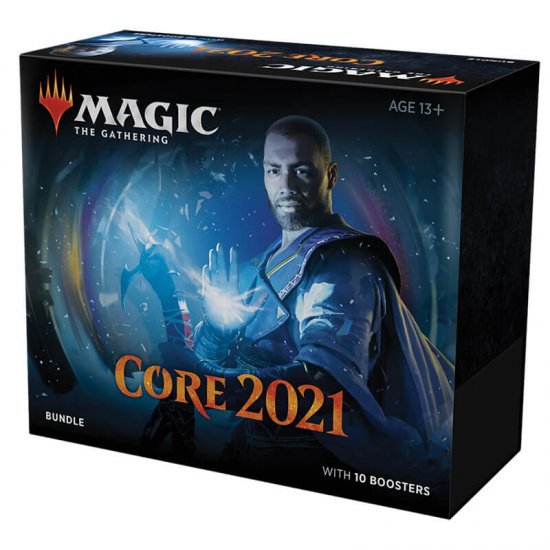 Magic: The Gathering 2021 Core Set Bundle
Product Code:
MTG-M21-BUNDLE
Brand:
Wizards of the Coast
Availability:
6
Shipping:
Ships

within Canada only

via Canada Post
Preorder Now! Available in-store Friday, Jul 3 2020
10 Core Set 2021 Draft Boosters
20-Card foil land pack (traditional frame)
20-Card regular land pack (traditional frame)
1 Foil promo card
1 Oversized Spindown life counter (1.5")
2 Reference cards
1 Reusable storage box
Magic: The Gathering 2021 Core Set Bundle

Teferi has summoned some of Magic's most iconic throwbacks alongside powerful new cards for a set too epic for just one timeline. Draw your power from the source with Core Set 2021.
Core Set 2021 is the perfect place to dive into Magic or power up your collection. Call upon planeswalkers and their powerful spells, learn more about the life and times of Teferi, and score reprints of some of Magic's most iconic cards.

Contents:
10 Core Set 2021 Draft Boosters
20-Card foil land pack (traditional frame)
20-Card regular land pack (traditional frame)
1 Foil promo card
1 Oversized Spindown life counter (1.5")
2 Reference cards
1 Reusable storage box

Set Name: Core Set 2021
Number of Cards: 274
Configuration: 10 packs per box, 15 cards per pack
Crackerjack Stadium will be opening for in-store retail beginning Monday June 8th! Retail hours will be Mon-Friday 12-5 and Saturday 10-5. Currently we will only be allowing 4 customers in the store at one time. We will be implementing a strict cleaning protocol and will be complying with all Ontario Health & Safety Guidelines. In-store items for sale will include all Sealed Product and supplies only. All singles by preorder only.