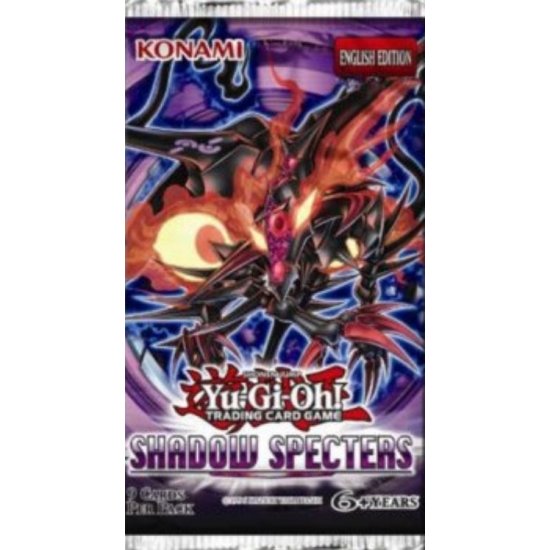 Yu-Gi-Oh ZEXAL Shadow Specters 9-Card Booster Pack
| | |
| --- | --- |
| Product Code: | YGO-SHADOWSPECTERS-PACK |
| Brand: | Konami |
| Availability: | 0 |
| Shipping: | Ships worldwide via Canada Post |
Divine Dragon Knight Felgrand
Ignoble Knight of High Laundsallyn
Number 46: Dragluon
Ghostrick Lantern
Ghostrick Alucard
9 cards per pack
Yu-Gi-Oh ZEXAL Shadow Specters 9-Card Booster Pack

Vampires are front and center in the year's final booster set: Shadow Specters! Halloween horrors abound in this 100-card booster set, with a whole series of new Vampire monsters, spells, and traps. Noble Knights also emerge with new cards including new Xyz and Synchro monsters, a new Knight, a new Noble Arms card, and a card inspired by the Lady of the Lake herself! Even the Monarchs go to a new level with the first of the new, and even more powerful, Super Monarchs! These are just a few of the highlights in this spooktacular booster set!

Look for great cards like:
Divine Dragon Knight Felgrand
Ignoble Knight of High Laundsallyn
Number 46: Dragluon
Ghostrick Lantern
Ghostrick Alucard

Set Name: Shadow Specters
Number of Cards: 100
Configuration: 9 cards per pack
Effective December 26th, Crackerjack Stadium is offering curbside pick-up only. Please call us at 289-820-5453 to order or shop online. Face coverings are required for pick-up. Retail hours are Mon-Sat 12-5pm EST. Thank you for your support and please stay safe.