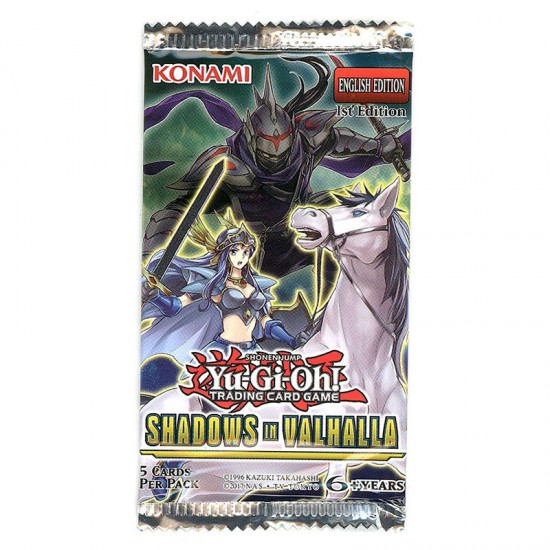 Yu-Gi-Oh Shadows in Valhalla 1st Edition 9-Card Booster Pack
| | |
| --- | --- |
| Product Code: | YGO-SHADOWSVALHALLA-1E-PACK |
| Brand: | Konami |
| Availability: | 0 |
| Shipping: | Ships worldwide via Canada Post |
Invocation
Aleister the Invoker of Madness
Ash Blossom & Joyous Spring
Ride of the Valkyries
Valkyrie Brunhilde
9 cards per pack
Yu-Gi-Oh Shadows in Valhalla 1st Edition 9-Card Booster Pack

Sound the horns of battle and prepare to Duel! In the twilight of Summer 2018, Shadows in Valhalla will bring Duelists the opportunity to change their own fate and wield the incomparable Mischief of the Time Goddess! Once thought to be too powerful to ever be printed in real life, this classic Spell Card from the original Yu-Gi-Oh! anime skips your opponent's turn completely and moves the game to your next Battle Phase. But that's just the tip of the iceberg in this 60-card all-foil booster set!

Look for great cards like:
Invocation
Aleister the Invoker of Madness
Ash Blossom & Joyous Spring
Ride of the Valkyries
Valkyrie Brunhilde

Set Name: Shadows in Valhalla
Number of Cards: 60
Configuration: 9 cards per pack
Crackerjack Stadium will be opening for in-store retail beginning Sep 1st! Retail hours will be Mon-Sat 12-5. Currently we will only be allowing 4 customers in the store at one time. We will be implementing a strict cleaning protocol and will be complying with all Ontario Health & Safety Guidelines. In-store items for sale will include all Sealed Product and supplies only. All singles by preorder only.