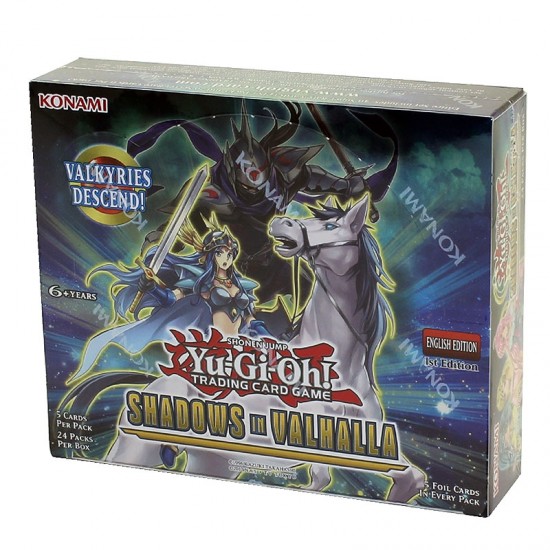 Yu-Gi-Oh Shadows in Valhalla 1st Edition Booster Box, 24/Pack
| | |
| --- | --- |
| Product Code: | YGO-SHADOWSVALHALLA-1E-BOX |
| Brand: | Konami |
| Availability: | 0 |
| Shipping: | Ships worldwide via Canada Post |
Invocation
Aleister the Invoker of Madness
Ash Blossom & Joyous Spring
Ride of the Valkyries
Valkyrie Brunhilde
24 packs per box, 9 cards per pack
Yu-Gi-Oh Shadows in Valhalla 1st Edition Booster Box, 24/Pack

Sound the horns of battle and prepare to Duel! In the twilight of Summer 2018, Shadows in Valhalla will bring Duelists the opportunity to change their own fate and wield the incomparable Mischief of the Time Goddess! Once thought to be too powerful to ever be printed in real life, this classic Spell Card from the original Yu-Gi-Oh! anime skips your opponent's turn completely and moves the game to your next Battle Phase. But that's just the tip of the iceberg in this 60-card all-foil booster set!

Look for great cards like:
Invocation
Aleister the Invoker of Madness
Ash Blossom & Joyous Spring
Ride of the Valkyries
Valkyrie Brunhilde

Set Name: Shadows in Valhalla
Number of Cards: 60
Configuration: 24 packs per box, 9 cards per pack
Effective December 26th, Crackerjack Stadium is offering curbside pick-up only. Please call us at 289-820-5453 to order or shop online. Face coverings are required for pick-up. Retail hours are Mon-Sat 12-5pm EST. Thank you for your support and please stay safe.