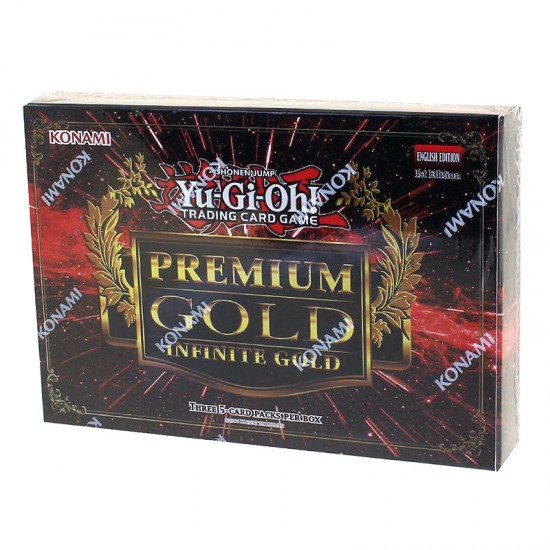 Yu-Gi-Oh Premium Gold: Infinite Gold 1st Edition Booster Mini Box (3 Booster Packs)
| | |
| --- | --- |
| Product Code: | YGO-GOLD-INFINITE-1E-BOX |
| Brand: | Konami |
| Availability: | 0 |
| Shipping: | Ships worldwide via Canada Post |
Stardust Charge Warrior
Maxx "C"
Number 38: Hope Harbinger Dragon Titanic Galaxy
Beatrice, Lady of the Eternal
The Phantom Knights of Shade Brigandine
3 packs per box, 5 cards per pack
Yu-Gi-Oh Premium Gold: Infinite Gold 1st Edition Booster Mini Box (3 Booster Packs)

Premium Gold: Infinite Gold is the latest solid gold collector's set for the Yu-Gi-Oh! TRADING CARD GAME. With something for everyone, Premium Gold: Infinite Gold contains dozens of upgraded cards to bling out your collection plus 21 new cards for your Main Deck and Extra Deck, all gleaming in gold foil technology!
Each 5-card Premium Gold: Infinite Gold mini-pack contains 2 Gold Secrets, consisting of popular cards and several brand-new, never-before-seen cards including powerful monsters for your Extra Deck! Each mini-pack also has 3 Gold Rare versions of popular cards, so you can gussy up your golden gleam! As a special bonus, scores of Gold Rare cards in the set includes former Yu-Gi-Oh! Championship Series Prize Cards Number 106: Giant Hand and Digvorzhak, King of Heavy Industry, now available for everyone to use!

Look for great cards like:
Stardust Charge Warrior
Maxx "C"
Number 38: Hope Harbinger Dragon Titanic Galaxy
Beatrice, Lady of the Eternal
The Phantom Knights of Shade Brigandine

Set Name: Premium Gold: Infinite Gold
Number of Cards: 100
Configuration: 3 packs per box, 5 cards per pack
Crackerjack Stadium will be opening for in-store retail beginning Sep 1st! Retail hours will be Mon-Sat 12-5. Currently we will only be allowing 4 customers in the store at one time. We will be implementing a strict cleaning protocol and will be complying with all Ontario Health & Safety Guidelines. In-store items for sale will include all Sealed Product and supplies only. All singles by preorder only.