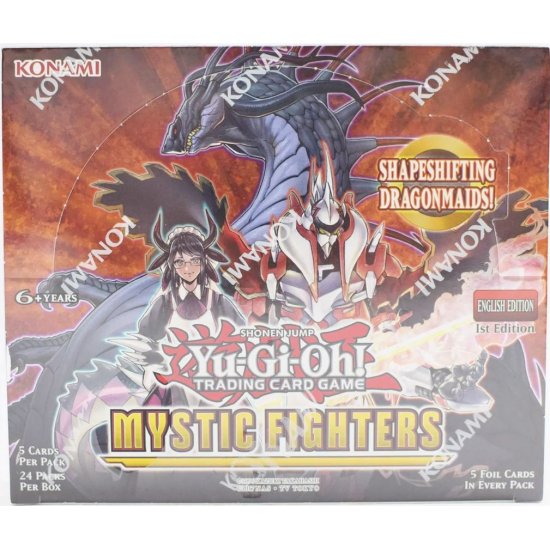 Yu-Gi-Oh Mystic Fighters Booster Box, 24/Pack
| | |
| --- | --- |
| Product Code: | YGO-MYSTICFIGHTERS-BOX |
| Brand: | Konami |
| Availability: | 0 |
| Shipping: | Ships worldwide via Canada Post |
Kitchen Dragonmaid
Nurse Dragonmaid
Primathmech Alembertian
Mardel, Generaider Boss of Light
Generaider Boss Stage
24 packs per box, 5 cards per pack
Yu-Gi-Oh Mystic Fighters Booster Box, 24/Pack

Fall is the perfect time of the year to build new Decks, and Mystic Fighters introduces three cool, new strategies that'll test your Dueling mettle!
Watch the Mathmechs add, subtract, multiply, and divide to cut your opponent's Life Points to zero! A new Cyberse theme for the calculating Duelist that subtracts cards from the opponent's hand and field, adds cards to your own with Xyz Monsters, and doubles the ATK and damage output of your Synchro Monsters, or cuts the opponent's in half! With Cyberse-Type Synchro and Xyz Monsters in the Extra Deck, this strategy can easily Summon Chaos Impact's Firewall Dragon Darkfluid at 8000 ATK!

Look for great cards like:
Kitchen Dragonmaid
Nurse Dragonmaid
Primathmech Alembertian
Mardel, Generaider Boss of Light
Generaider Boss Stage

Set Name: Mystic Fighters
Number of Cards: 60
Configuration: 24 packs per box, 5 cards per pack
Effective December 26th, Crackerjack Stadium is offering curbside pick-up only. Please call us at 289-820-5453 to order or shop online. Face coverings are required for pick-up. Retail hours are Mon-Sat 12-5pm EST. Thank you for your support and please stay safe.