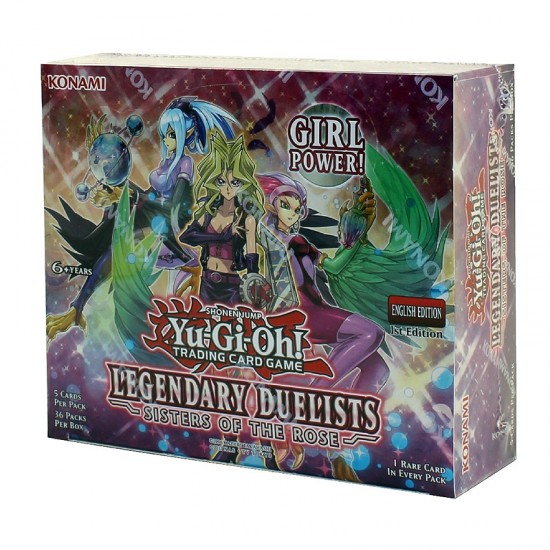 Yu-Gi-Oh Legendary Duelists: Sisters of the Rose 1st Edition Booster Box, 36/Pack
| | |
| --- | --- |
| Product Code: | YGO-LD-SISTERSROSE-1E-BOX |
| Brand: | Konami |
| Availability: | 0 |
| Shipping: | Ships worldwide via Canada Post |
Urgent Schedule
Superdreadnought Rail Cannon Juggernaut Liebe
Garden Rose Maiden
Harpie Perfumer
Super Express Bullet Train
36 packs per box, 5 cards per pack
Yu-Gi-Oh Legendary Duelists: Sisters of the Rose 1st Edition Booster Box, 36/Pack

Legendary Duelists: Sisters of the Rose introduces brand-new cards inspired by some of Dueling's most daring strategies from the pantheon of Yu-Gi-Oh! manga and anime series. Whether you want to power a single monster up to stratospheric proportions, create an inhospitable field environment that makes monsters wish they'd never been Summoned, or just endlessly duplicate your favorite monster, you'll have something to look forward to this winter!
Legendary Duelists: Sisters of the Rose debuts brand-new cards inspired by past heroines of Yu-Gi-Oh! like Mai Valentine and Akiza Izinski. Mai is making her second appearance in the Legendary Duelists series with brand-new cards for her Harpie Lady strategy from the Duelist Kingdom tournament. Mai's strategy was all about duplicating Harpies with Elegant Egotist to Summon Harpie Lady Sisters, and Legendary Duelists: Sisters of the Rose has brand-new cards to help you multiply your Harpies and reward you for playing with the classic Harpie Lady Sisters card!
Look for great cards like:
Urgent Schedule
Superdreadnought Rail Cannon Juggernaut Liebe
Garden Rose Maiden
Harpie Perfumer
Super Express Bullet Train

Set Name: Legendary Duelists: Sisters of the Rose
Number of Cards: 56
Configuration: 36 packs per box, 5 cards per pack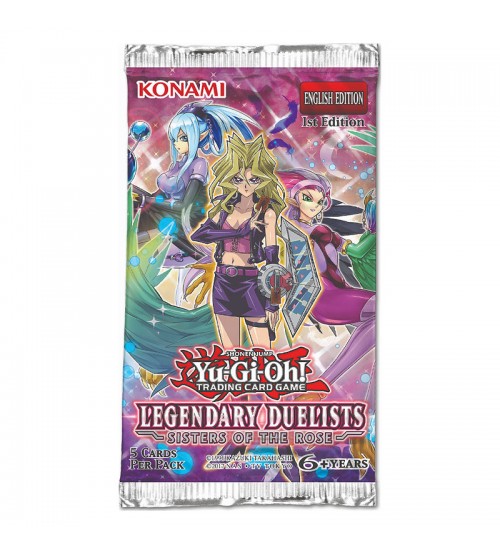 Crackerjack Stadium will be opening for in-store retail beginning Monday June 8th! Retail hours will be Mon-Friday 12-5 and Saturday 10-5. Currently we will only be allowing 4 customers in the store at one time. We will be implementing a strict cleaning protocol and will be complying with all Ontario Health & Safety Guidelines. In-store items for sale will include all Sealed Product and supplies only. All singles by preorder only.