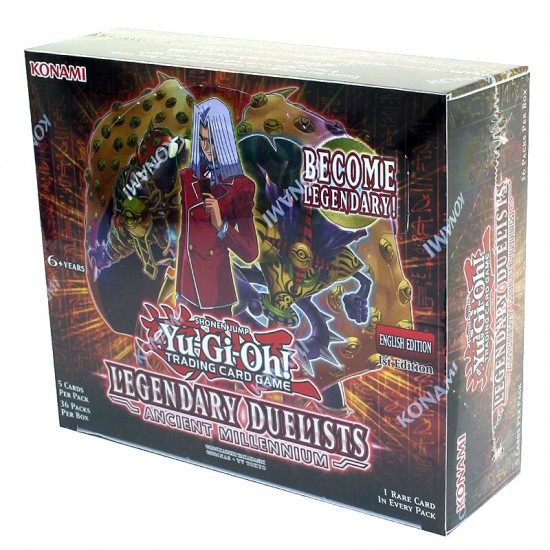 Yu-Gi-Oh Legendary Duelists: Ancient Millennium 1st Edition Booster Box, 36/Pack
| | |
| --- | --- |
| Product Code: | YGO-LD-ANCIENTMILLENNIUM-1E-BOX |
| Brand: | Konami |
| Availability: | 0 |
| Shipping: | Ships worldwide via Canada Post |
Ancient Gear Fusion
Crystal Bond
Toon Kingdom
Millennium-Eyes Restrict
Cocoon of Ultra Evolution
36 packs per box, 5 cards per pack
Yu-Gi-Oh Legendary Duelists: Ancient Millennium 1st Edition Booster Box, 36/Pack

Legendary Duelists was full of brand-new cards for heroic figures from Yu-Gi-Oh! This winter, take a walk on the dark side with Legendary Duelists: Ancient Millennium, featuring brand-new cards inspired by some of the most villainous Duelists to grace your TV screens!
The enigmatic creator of Duel Monsters, Maximillion Pegasus, lured Yugi to Duelist Kingdom in a bid to defeat him and complete a corporate takeover! In their climactic Duel, Pegasus dropped his cartoonish façade and unleashed the true power of his Deck: the monster devouring Thousand-Eyes Restrict! Legendary Duelists: Ancient Millennium offers upgrades to some of Pegasus' most terrifying monsters like Thousand-Eyes Restrict and Illusionist Faceless Mage.
Look for great cards like:
Ancient Gear Fusion
Crystal Bond
Toon Kingdom
Millennium-Eyes Restrict
Cocoon of Ultra Evolution

Set Name: Legendary Duelists: Ancient Millennium
Number of Cards: 53
Configuration: 36 packs per box, 5 cards per pack
Effective December 26th, Crackerjack Stadium is offering curbside pick-up only. Please call us at 289-820-5453 to order or shop online. Face coverings are required for pick-up. Retail hours are Mon-Sat 12-5pm EST. Thank you for your support and please stay safe.