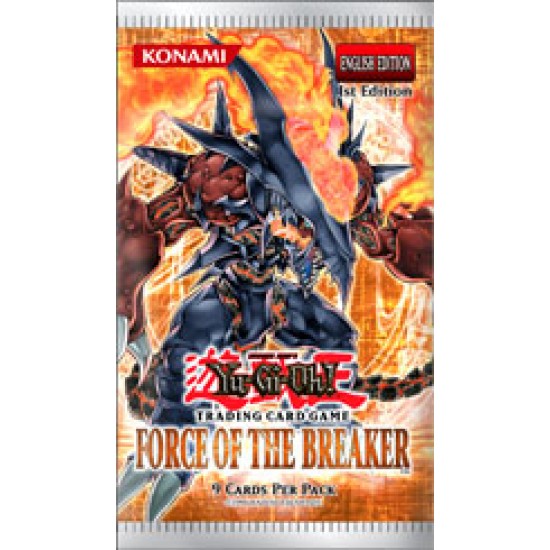 Yu-Gi-Oh GX Force of the Breaker 1st Edition 9-Card Booster Pack
| | |
| --- | --- |
| Product Code: | YGO-FORCEBREAKER-1E-PACK |
| Brand: | Konami |
| Availability: | 0 |
| Shipping: | Ships worldwide via Canada Post |
Harpie Queen
Crystal Beast Sapphire Pegasus
Eradicator Epidemic Virus
Volcanic Rocket
Crystal Beast Topaz Tiger
9 cards per pack
Yu-Gi-Oh GX Force of the Breaker 1st Edition 9-Card Booster Pack

This set - which includes monsters and support cards used by Jesse Anderson and Axel Brodie in Yu-Gi-Oh! GX - marks the first appearance of the Crystal Beasts. Besides giving a boost to FIRE-Attribute and several other older Deck themes, it also includes a number of cards connected to Continuous Spells; the form taken by Crystal Beast monsters when they are destroyed as monsters.

Look for great cards like:
Harpie Queen
Crystal Beast Sapphire Pegasus
Eradicator Epidemic Virus
Volcanic Rocket
Crystal Beast Topaz Tiger

Set Name: Force of the Breaker
Number of Cards: 69
Configuration: 9 cards per pack
Effective December 26th, Crackerjack Stadium is offering curbside pick-up only. Please call us at 289-820-5453 to order or shop online. Face coverings are required for pick-up. Retail hours are Mon-Sat 12-5pm EST. Thank you for your support and please stay safe.