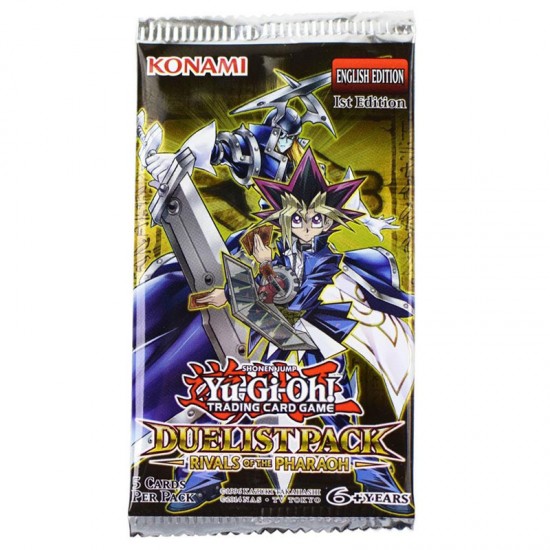 Yu-Gi-Oh Duelist Pack: Rivals of the Pharaoh 1st Edition 5-Card Booster Pack
| | |
| --- | --- |
| Product Code: | YGO-DP-RIVALSPHARAOH-1E-PACK |
| Brand: | Konami |
| Availability: | 0 |
| Shipping: | Ships worldwide via Canada Post |
Silent Magician
Silent Paladin
Magnet Force
Dark Sanctuary
Silent Sword Slash
5 cards per pack
Yu-Gi-Oh Duelist Pack: Rivals of the Pharaoh 1st Edition 5-Card Booster Pack

The greatest Duelists attract the most fearsome foes, and the legendary Pharaoh is no exception! Duelist Pack: Rivals of the Pharaoh is packed with cards used by and inspired by the Pharaoh's toughest opponents and their most exhilarating Duels from the original Yu-Gi-Oh! animated series.
Sometimes a friend, more often an enemy, billionaire Duelist extraordinaire Seto Kaiba, pushed the Pharaoh to his limits from the very first episode. His Blue-Eyes Ultimate Dragon's signature move, Neutron Blast, is now a Spell Card that lets your own Blue-Eyes Ultimate Dragon attack 3 times in a turn – once for each head – without interruption! Duelists can also use knowledge of their own greatest rivals to their advantage with Lullaby of Obedience, a one-of-a-kind Spell Card that lets you play any monster you can name from your opponent's Deck!

Look for great cards like:
Silent Magician
Silent Paladin
Magnet Force
Dark Sanctuary
Silent Sword Slash

Set Name: Duelist Pack: Rivals of the Pharaoh
Number of Cards: 46
Configuration: 5 cards per pack
Effective December 26th, Crackerjack Stadium is offering curbside pick-up only. Please call us at 289-820-5453 to order or shop online. Face coverings are required for pick-up. Retail hours are Mon-Sat 12-5pm EST. Thank you for your support and please stay safe.