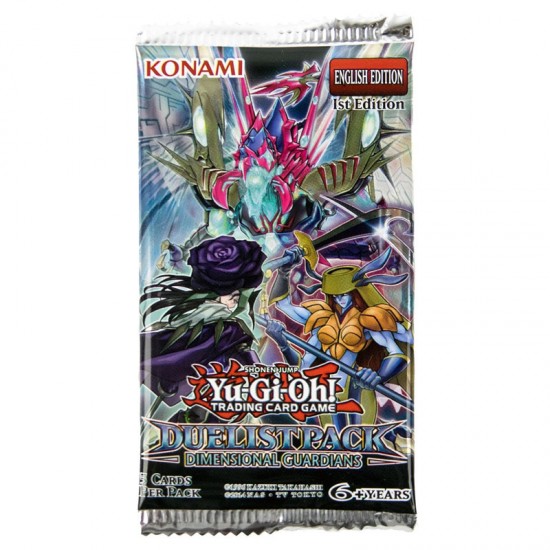 Yu-Gi-Oh Duelist Pack: Dimensional Guardians 1st Edition 5-Card Booster Pack
| | |
| --- | --- |
| Product Code: | YGO-DP-DIMENSIONALGUARD-1E-PACK |
| Brand: | Konami |
| Availability: | 0 |
| Shipping: | Ships worldwide via Canada Post |
Galaxy-Eyes Cipher Dragon
Tyrant Red Dragon Archfiend
Frightfur Daredevil
Frightfur Reborn
Speedroid Dominobutterfly
5 cards per pack
Yu-Gi-Oh Duelist Pack: Dimensional Guardians 1st Edition 5-Card Booster Pack

Join the heroes of Yu-Gi-Oh! ARC-V on their journey through the Synchro, Xyz, and Fusion Dimensions with Duelist Pack: Dimensional Guardians!
On their quest to reach the home dimension of the Obelisk Force, Yuya, Declan, and the rest of the Lancers travel to familiar locations like New Domino City and Heartland to form alliances and recruit new Duelists to the cause – famous Duelists like Jack Atlas, Kite Tenjo, and Alexis Rhodes!
Duelist Pack: Dimensional Guardians is full of cards made famous by Jack, Kite, and Alexis in their original incarnations from Yu-Gi-Oh! 5D's, Yu-Gi-Oh! ZEXAL, and Yu-Gi-Oh! GX, but it also includes new cards they use in Yu-Gi-Oh! ARC-V. There are also brand-new cards for popular ARC-V strategies like Performapals, Speedroids, Frightfurs, and Raidraptors that you won't find anywhere else!

Look for great cards like:
Galaxy-Eyes Cipher Dragon
Tyrant Red Dragon Archfiend
Frightfur Daredevil
Frightfur Reborn
Speedroid Dominobutterfly

Set Name: Duelist Pack: Dimensional Guardians
Number of Cards: 45
Configuration: 5 cards per pack
Effective December 26th, Crackerjack Stadium is offering curbside pick-up only. Please call us at 289-820-5453 to order or shop online. Face coverings are required for pick-up. Retail hours are Mon-Sat 12-5pm EST. Thank you for your support and please stay safe.