COVID UPDATE: Offering curbside and limited in-store browsing. Masks optional.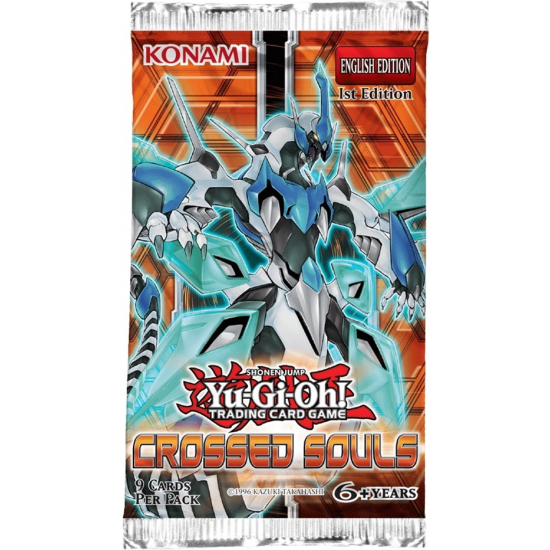 Yu-Gi-Oh Crossed Souls 1st Edition 9-Card Booster Pack
| | |
| --- | --- |
| Product Code: | YGO-CROSSEDSOULS-1E-PACK |
| Brand: | Konami |
| Availability: | 0 |
| Shipping: | Ships worldwide via Canada Post |
Clear Wing Synchro Dragon
Ghost Ogre & Snow Rabbit
Ritual Beast Ulti-Gaiapelio
El Shaddoll Anoyatyllis
Nekroz of Sophia
9 cards per pack
Yu-Gi-Oh Crossed Souls 1st Edition 9-Card Booster Pack

Crossed Souls unlocks new Deck-building opportunities like never before for the Yu-Gi-Oh! TRADING CARD GAME. This 100-card set introduces the Zefra monsters, a new monster omni-theme that crosses over five different Deck types!
Each Zefra monster is tied in to a popular monster group from recent sets, making them either Zefra/Shaddoll, Zefra/'tellarknight, Zefra/Yang Zing, Zefra/Nekroz, or Zefra/Ritual Beast. Duelists with any of these Decks can add their new Zefra monsters to spice the Deck up, OR build a Deck entirely of Zefra monsters, tying all five together!
While their cross-theme potential and monster effects vary, all Zefra monsters can take advantage of the new, powerful Zefra Spell & Trap Cards in Crossed Souls, magnifying the power boost that Zefra monsters give to any Deck that includes them. At the same time, a pure Zefra Deck (or a Deck with appropriate Zefra splash) can now gain increased access to Shaddoll, 'tellarknight, Yang Zing, Nekroz, and Ritual Beast cards!

Look for great cards like:
Clear Wing Synchro Dragon
Ghost Ogre & Snow Rabbit
Ritual Beast Ulti-Gaiapelio
El Shaddoll Anoyatyllis
Nekroz of Sophia

Set Name: Crossed Souls
Number of Cards: 100
Configuration: 9 cards per pack