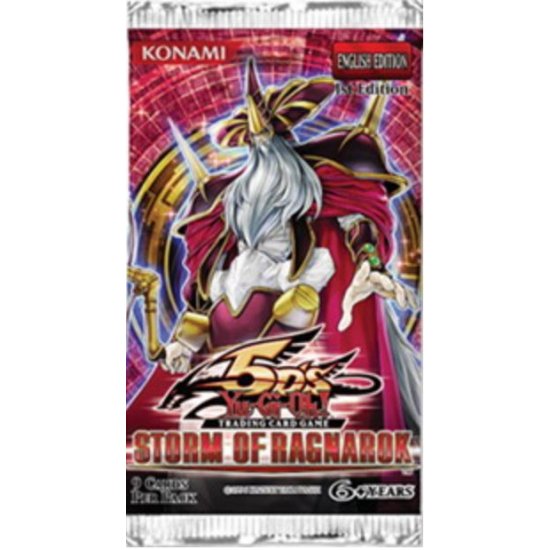 Yu-Gi-Oh 5D's Storm of Ragnarok 1st Edition 9-Card Booster Pack
| | |
| --- | --- |
| Product Code: | YGO-STORMRAGNAROK-1E-PACK |
| Brand: | Konami |
| Availability: | 0 |
| Shipping: | Ships worldwide via Canada Post |
Maxx "C"
Odin, Father of the Aesir
Legendary Six Samurai - Shi En
Chaos Hunter
Thor, Lord of the Aesir
9 cards per pack
Yu-Gi-Oh 5D's Storm of Ragnarok 1st Edition 9-Card Booster Pack

Ragnarok!
This was the Viking name for The End of the World. But as one world ends, a bold new age of Dueling begins!
As Ragnarok approaches, the Nordic gods – Odin, Thor, and Loki – descend upon the Dueling world, bringing with them the full fury of the monsters and warriors of the north. This 100-card set lets you bring down the wrath of the gods on your opponents!
One of the most powerful booster sets to release in years, Storm of Ragnarok will sweep away anyone who cannot adapt to the changing times, for the time of Ragnarok is at hand!

Look for great cards like:
Maxx "C"
Odin, Father of the Aesir
Legendary Six Samurai - Shi En
Chaos Hunter
Thor, Lord of the Aesir

Set Name: Storm of Ragnarok
Number of Cards: 100
Configuration: 9 cards per pack
Effective December 26th, Crackerjack Stadium is offering curbside pick-up only. Please call us at 289-820-5453 to order or shop online. Face coverings are required for pick-up. Retail hours are Mon-Sat 12-5pm EST. Thank you for your support and please stay safe.