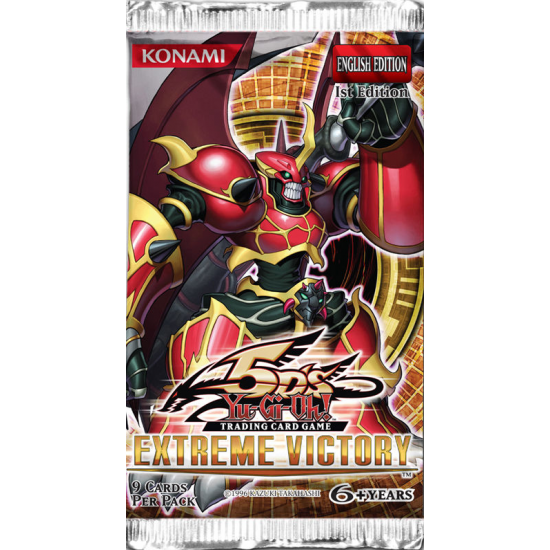 Yu-Gi-Oh 5D's Extreme Victory 1st Edition 9-Card Booster Pack
| | |
| --- | --- |
| Product Code: | YGO-EXTREMEVICTORY-1E-PACK |
| Brand: | Konami |
| Availability: | 0 |
| Shipping: | Ships worldwide via Canada Post |
Tour Guide From the Underworld
Junk Berserker
T.G. Wonder Magician
Life Stream Dragon
Scrap Orthros
9 cards per pack
Yu-Gi-Oh 5D's Extreme Victory 1st Edition 9-Card Booster Pack

A High-Tech War over Synchro Monsters!
For 3 years, Synchro Monsters have dominated the Yu-Gi-Oh! TCG. Now they've reached their ultimate evolution. But something – or someone – has been waiting for them. It's time for a showdown between the ultimate Synchro Monsters and the ultimate Synchro-Destroyers!
Extreme Victory takes Synchro Monsters to their ultimate extreme, with the new T.G. (Tech Genus) monsters. T.G. Decks are specially designed to crank out Synchro Monsters at a fast and furious pace. And they can do it over and over and over again.

Look for great cards like:
Tour Guide From the Underworld
Junk Berserker
T.G. Wonder Magician
Life Stream Dragon
Scrap Orthros

Set Name: Extreme Victory
Number of Cards: 100
Configuration: 24 packs per box, 9 cards per pack