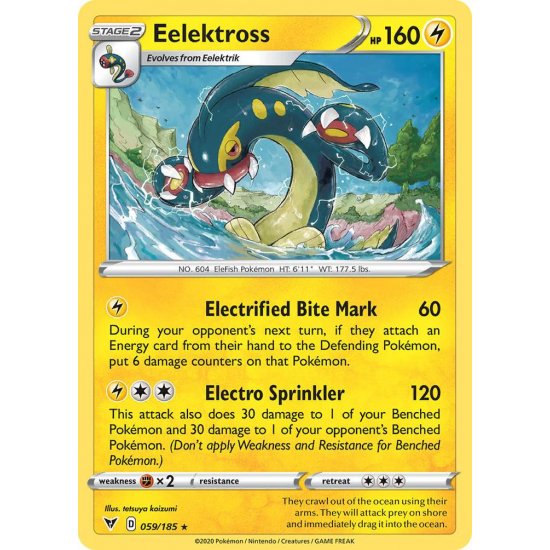 Pokemon Sword & Shield Vivid Voltage Eelektross Rare 059/185
| | |
| --- | --- |
| Product Code: | POKE-SWSH4-059 |
| Brand: | Nintendo |
| Availability: | 1 |
| Shipping: | Ships worldwide via Canada Post |
Pokemon Sword & Shield Vivid Voltage Eelektross Rare 059/185

Card Type/HP/Stage: Lightning / 160 / Stage 2
Card Text:
Attack 1:
[L] Electrified Bite Mark (60)
During your opponent's next turn, if they attach an Energy card from their hand to the Defending Pokémon, put 6 damage counters on that Pokémon.

Attack 2:
[2L] Electro Sprinkler (120)
This attack also does 30 damage to 1 of your Benched Pokémon and 30 damage to 1 of your opponent's Benched Pokémon. (Don't apply Weakness and Resistance for Benched Pokémon.)

Weakness/Resistance/Retreat Cost: Fx2 / None / 3
Effective December 26th, Crackerjack Stadium is offering curbside pick-up only. Please call us at 289-820-5453 to order or shop online. Face coverings are required for pick-up. Retail hours are Mon-Sat 12-5pm EST. Thank you for your support and please stay safe.