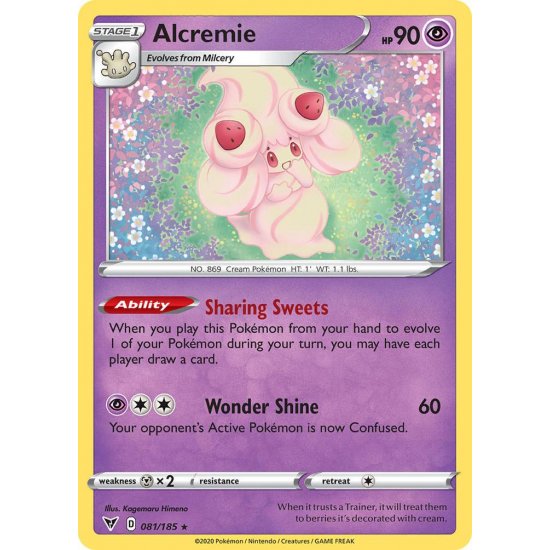 Pokemon Sword & Shield Vivid Voltage Alcremie Rare 081/185
| | |
| --- | --- |
| Product Code: | POKE-SWSH4-081 |
| Brand: | Nintendo |
| Availability: | 1 |
| Shipping: | Ships worldwide via Canada Post |
Pokemon Sword & Shield Vivid Voltage Alcremie Rare 081/185

Card Type/HP/Stage: Psychic / 90 / Basic
Card Text:
Ability — Sharing Sweets
When you play this Pokemon from your hand to evolve 1 of your Pokemon during your turn, you may have each player draw a card.

Attack 1:
[2P] Wonder Shine (60)
Your opponent's Active Pokemon is now Confused.

Weakness/Resistance/Retreat Cost: Mx2 / None / 1
Effective December 26th, Crackerjack Stadium is offering curbside pick-up only. Please call us at 289-820-5453 to order or shop online. Face coverings are required for pick-up. Retail hours are Mon-Sat 12-5pm EST. Thank you for your support and please stay safe.