COVID UPDATE: Offering curbside and limited in-store browsing. Masks optional.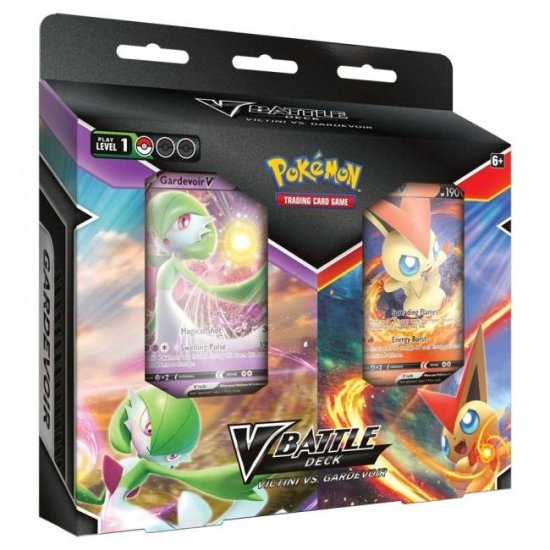 Pokemon V Battle Deck - Victini vs Gardevoir
| | |
| --- | --- |
| Product Code: | POKE-VBATTLEDECK-VICTINIVSGARDEVOIR |
| Brand: | Nintendo |
| Availability: | 11 |
| Shipping: | Ships worldwide via Canada Post |
2 Ready-to-play V Battle Decks (60 cards each)
Each deck includes a powerful special Pokémon: Victini V or Gardevoir V
8 Additional Trainer cards, including 2 foil cards
2 Large metallic coins
2 Deck boxes
2 Single-player playmats
Pokemon V Battle Deck - Victini vs Gardevoir

Get ready for a major Pokémon Trading Card Game battle with this ready-to-play double deck bundle. The Pokémon TCG: V Battle Deck—Victini vs. Gardevoir includes a deck for you and a friend so you can face off. Each 60-card deck includes a powerful Pokémon V, either Victini V or Gardevoir V, and you even get extra Trainer cards to customize your deck to your play style. The set also includes useful accessories like playmats, damage counters, metallic coins, and deck boxes to get you ready to battle in style. Not to mention you'll get reference cards and guides that will help improve your technique. Master battling with one Pokémon V, then switch decks to see what things look like from the other side. Can you handle the might of both Victini V and Gardevoir V?

Contents:
2 Ready-to-play V Battle Decks (60 cards each)
Each deck includes a powerful special Pokémon: Victini V or Gardevoir V
8 Additional Trainer cards, including 2 foil cards
2 Large metallic coins
2 Deck boxes
2 Quick Guides to unlock the strategies within
2 Single-player playmats
6 Reference cards
Damage counters
1 Guide to upgrading your decks
A code card for the Pokémon Trading Card Game Online