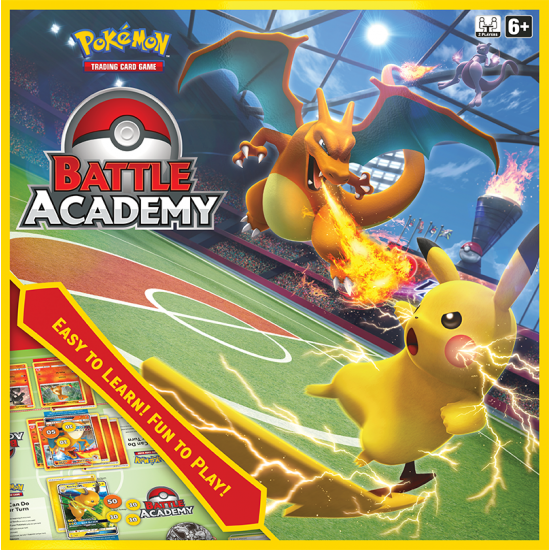 Pokemon Battle Academy Deck Kit
| | |
| --- | --- |
| Product Code: | POKE-BATTLEACADEMY |
| Brand: | Nintendo |
| Availability: | 6 |
| Shipping: | Ships worldwide via Canada Post |
3 Complete Pokémon TCG decks (60 cards each)
Each deck includes a powerful special Pokémon: Charizard-GX, Raichu-GX, or Mewtwo-GX
Pokemon Battle Academy Deck Kit

Whether you want to learn to play the Pokémon Trading Card Game or you want to have a fun family game night, the Pokémon Trading Card Game Battle Academy is a fantastic way to get started. The Battle Academy has everything two players need to play, starting with three complete Pokémon TCG decks. These 60-card decks feature powerful special Pokémon to heighten the fun of battle—you'll find decks that feature Charizard-GX, Raichu-GX, and Mewtwo-GX.
The Pokémon Trading Card Game Battle Academy comes with a sturdy two-player gameboard to make playing the game easy. You'll find a rulebook and two tutorial guides for the included decks that will help improve your game. There are also some useful accessories: a large metallic coin and a set of damage counters.
You can choose Charizard or Pikachu to lead your team in a heads-up battle against another Trainer. Then, switch up the decks to play Mewtwo against Charizard or Pikachu, and lead a different team of Pokémon into the arena! With a little strategy and a little luck, you can battle with the best!

Contents:
3 Complete Pokémon TCG decks (60 cards each)
Each deck includes a powerful special Pokémon: Charizard-GX, Raichu-GX, or Mewtwo-GX
2 Tutorial guides to play right away
1 Two-player game board
3 Deck boxes to keep the cards organized
1 Rulebook
1 Large metallic coin
1 Set of damage counters
A code card for the Pokémon Trading Card Game Online
Effective December 26th, Crackerjack Stadium is offering curbside pick-up only. Please call us at 289-820-5453 to order or shop online. Face coverings are required for pick-up. Retail hours are Mon-Sat 12-5pm EST. Thank you for your support and please stay safe.