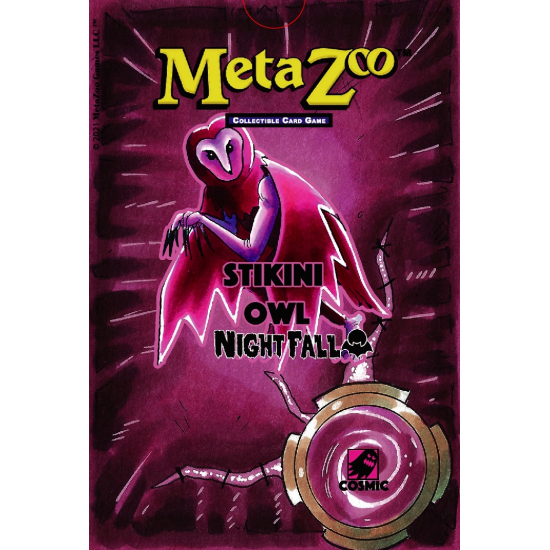 MetaZoo: Nightfall Theme Deck - Stikini Owl
| | |
| --- | --- |
| Product Code: | MZ-NIGHTFALL-THEME-STIKINIOWL |
| Brand: | MetaZoo Games |
| Availability: | 1 |
| Shipping: | Ships worldwide via Canada Post |
1x Exclusive MetaZoo: Cryptid Nation Nightfall Holographic Promo Card
39x Pages (cards) Pre-Constructed Deck
1x MetaZoo: Cryptid Nation Nightfall Booster Pack
1x MetaZoo Metallic Coin
1x MetaZoo Rulebook
MetaZoo: Nightfall Theme Deck - Stikini Owl

Darkness falls, and in the cover of night, the darker Beasties find sanctuary... and prey to hunt. MetaZoo: Cryptid Nation Nightfall brings a whole new and terrifying list of North American cryptids into the MetaZoo universe. Mothman returns, the Wendigo howls in the moonlight, and the Bell Witch cackles in the winter air. Contract these Beasties at your own risk... for they could be your last.
MetaZoo: Nightfall is the second instalment of the explosive new CCG: MetaZoo: Cryptid Nation. Many brand-new and several returning Cryptids guarantee excitement for players and collectors alike.
Theme Deck – Spirit: With the ghastly power of Spirit on your side, do you think you have what it takes and are ready to delve into the Afterlife?

Contains:
1x Exclusive MetaZoo: Cryptid Nation Nightfall Holographic Promo Card
39x Pages (cards) Pre-Constructed Deck
1x MetaZoo: Cryptid Nation Nightfall Booster Pack
1x MetaZoo Metallic Coin
1x MetaZoo Rulebook

Set Name: Nightfall