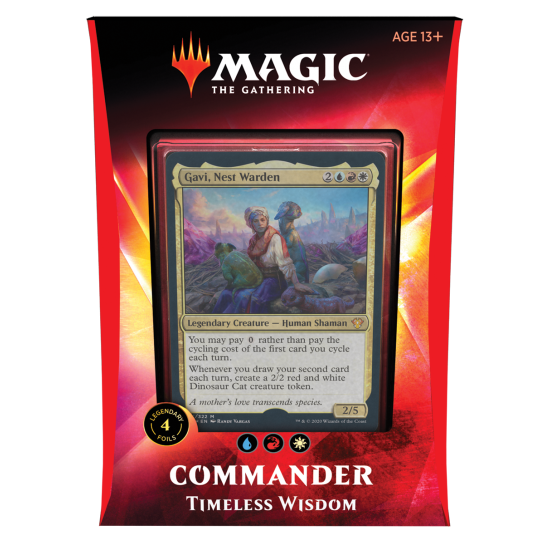 Magic: The Gathering Ikoria: Lair of Behemoths Commander 2020 Deck - Timeless Wisdom
Product Code:
MTG-IKO-TIMELESSWISDOM
Brand:
Wizards of the Coast
Availability:
2
Shipping:
Ships

within Canada only

via Canada Post
1 Foil oversized commander card
100 Card deck, including 4 legendary creatures
10 Double-sided tokens
1 Deck box
1 Life Wheel
Magic: The Gathering Ikoria: Lair of Behemoths Commander 2020 Deck - Timeless Wisdom

On the treacherous world of Ikoria, gargantuan beasts fight for survival while humans hide at the bottom of the food chain—forever in fear of the creatures beyond the walls and the human traitors known as "bonders" who believe the monsters misunderstood. Will you fight the behemoths at your door, or fight alongside them?
For Commander (2020 Edition), Magic is trying something new: the Commander decks align with Ikoria: Lair of Behemoths.
With 71 new cards not found in Ikoria: Lair of Behemoths Draft Boosters, these five decks take players even deeper into Magics wild world of monsters. All cards are legal in Eternal formats like Legacy and Vintage.

Contents:
1 Foil oversized commander card
100 Card deck, including 4 legendary creatures
10 Double-sided tokens
1 Deck box
1 Life Wheel

Set Name: Ikoria: Lair of Behemoths
Number of Cards: 274
Effective December 26th, Crackerjack Stadium is offering curbside pick-up only. Please call us at 289-820-5453 to order or shop online. Face coverings are required for pick-up. Retail hours are Mon-Sat 12-5pm EST. Thank you for your support and please stay safe.