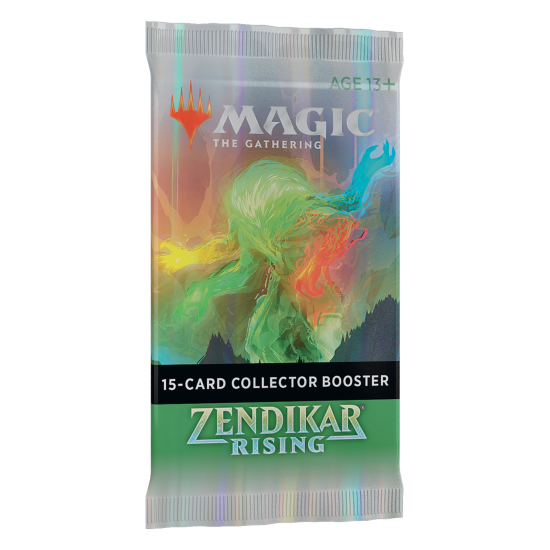 Magic: The Gathering Zendikar Rising 15-Card Collector Booster Pack
Product Code:
MTG-ZNR-COLLECTORPACK
Brand:
Wizards of the Coast
Availability:
35
Shipping:
Ships

within Canada only

via Canada Post
Ancient Greenwarden
Lithoform Engine
Scourge of the Skyclaves
Omnath, Locus of Creation
Turntimber Symbiosis / Turntimber, Serpentine Wood
15 cards per pack
Magic: The Gathering Zendikar Rising 15-Card Collector Booster Pack

Zendikar calls. A quest awaits. So gather your adventuring party and prepare for perilous challenges and priceless rewards. If you're to find the truth and calm the Roil, you must be bolder than the rest...and just a little reckless.
Introducing "party." Clerics, Rogues, Warriors, and Wizards—for each of these creature types you add to your party, you get more powerful. Sometimes your spells get easier to cast, sometimes your creatures get stronger—there are many different rewards.
ONLY THE HOTTEST CARDS. Collector Boosters are a shortcut to the most precious cards in Zendikar Rising—open a pack and fill your binder with rares, foils, special art, and showcase frames.
CARD STYLES NOT FOUND ANYWHERE ELSE. Collector Boosters are the only Zendikar Rising boosters that contain cards with extended art and the possibility of getting Expedition Lands in foil.

Look for these great cards:
Ancient Greenwarden
Lithoform Engine
Scourge of the Skyclaves
Omnath, Locus of Creation
Turntimber Symbiosis / Turntimber, Serpentine Wood

Set Name: Zendikar Rising
Number of Cards: 280
Configuration: 15 cards per pack
Effective December 26th, Crackerjack Stadium is offering curbside pick-up only. Please call us at 289-820-5453 to order or shop online. Face coverings are required for pick-up. Retail hours are Mon-Sat 12-5pm EST. Thank you for your support and please stay safe.