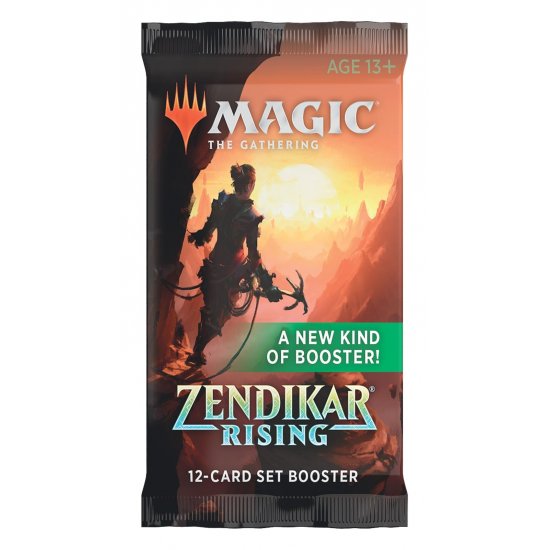 Magic: The Gathering Zendikar Rising 12-Card Set Booster Pack
Product Code:
MTG-ZNR-SETPACK
Brand:
Wizards of the Coast
Availability:
63
Shipping:
Ships

within Canada only

via Canada Post
Ancient Greenwarden
Lithoform Engine
Scourge of the Skyclaves
Omnath, Locus of Creation
Turntimber Symbiosis / Turntimber, Serpentine Wood
12 cards per pack
Magic: The Gathering Zendikar Rising 12-Card Set Booster Pack

Zendikar calls. A quest awaits. So gather your adventuring party and prepare for perilous challenges and priceless rewards. If you're to find the truth and calm the Roil, you must be bolder than the rest...and just a little reckless.
Introducing "party." Clerics, Rogues, Warriors, and Wizards—for each of these creature types you add to your party, you get more powerful. Sometimes your spells get easier to cast, sometimes your creatures get stronger—there are many different rewards.
THE BEST WAY TO OPEN PACKS JUST FOR THE FUN OF OPENING THEM. Zendikar Rising Set Boosters are the go-to if you're looking to rip open a Magic: The Gathering booster pack just to see what's inside.

Look for these great cards:
Ancient Greenwarden
Lithoform Engine
Scourge of the Skyclaves
Omnath, Locus of Creation
Turntimber Symbiosis / Turntimber, Serpentine Wood

Set Name: Zendikar Rising
Number of Cards: 280
Configuration: 12 cards per pack