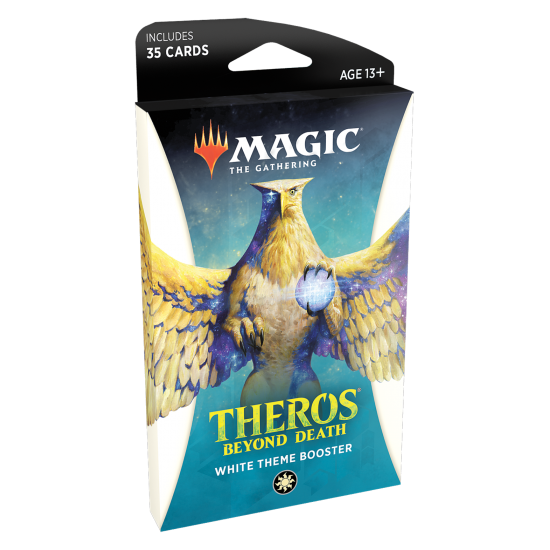 Magic: The Gathering Theros Beyond Death Theme Booster - White
Product Code:
MTG-THB-WHITE
Brand:
Wizards of the Coast
Availability:
12
Shipping:
Ships

within Canada only

via Canada Post
35 Cards from Theros Beyond Death, all themed around a single color
1 Rare or mythic rare
Magic: The Gathering Theros Beyond Death Theme Booster - White

In Theros, the pantheon of gods vies for undying devotion among their mortal subjects. But in the Underworld, there is only one master: the Lord of the Dead. Break free from death's shackles as a hero reborn. Choose your god and fight in their name...or forge a destiny all your own.
Theme Boosters are perfect for players looking to expand their collection with a specific strategy in mind. These larger booster packs are full of cards all based on a single theme. Players who are looking to build their specific deck but still love the surprise of opening booster packs will love the Theme Booster.

Contents:
35 Cards from Theros Beyond Death, all themed around a single color
1 Rare or mythic rare

Set Name: Theros Beyond Death
Number of Cards: 254
Crackerjack Stadium will be opening for in-store retail beginning Monday June 8th! Retail hours will be Mon-Friday 12-5 and Saturday 10-5. Currently we will only be allowing 4 customers in the store at one time. We will be implementing a strict cleaning protocol and will be complying with all Ontario Health & Safety Guidelines. In-store items for sale will include all Sealed Product and supplies only. All singles by preorder only.