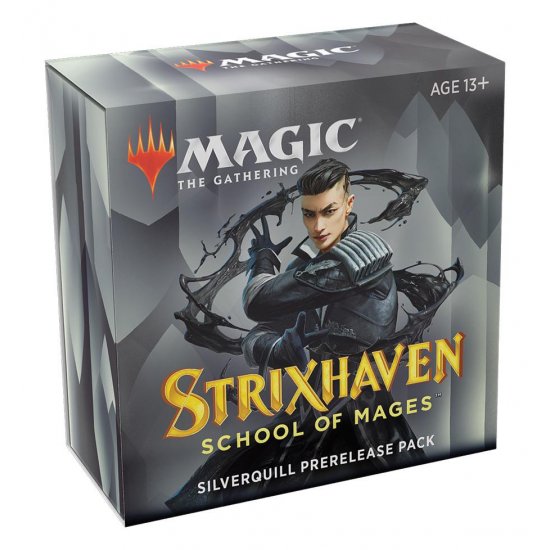 Magic: The Gathering Strixhaven: School of Mages Pre-Release Pack - Silverquill + 2 Bonus Packs - Ships April 23rd
| | |
| --- | --- |
| Product Code: | MTG-STX-PRERELEASE-SILVERQUILL |
| Brand: | Wizards of the Coast |
| Availability: | 0 |
| Shipping: | Ships worldwide via Canada Post |
5 Strixhaven: School of Mages Draft Boosters
1 Strixhaven: School of Mages College Booster (R/M slot is from the Prerelease Pack's college)
1 Foil promo-stamped R/M card from Strixhaven: School of Mages
1 MTG Arena code card (in select regions)
1 Spindown life counter
Magic: The Gathering Strixhaven: School of Mages Pre-Release Pack - Silverquill

Welcome to Strixhaven: School of Mages!
Here you will study magic under one of the five colleges: Silverquil, Lorehold, Prismari, Witherbloom & Quandrix. Each dorm represents one of Magic's two-color combinations, each with their own personality and mechanics. Learn from the best professors and explore Strixhaven's huge library!

Contents:
5 Strixhaven: School of Mages Draft Boosters
1 Strixhaven: School of Mages College Booster (R/M slot is from the Prerelease Pack's college)
1 Foil promo-stamped R/M card from Strixhaven: School of Mages
1 MTG Arena code card (in select regions)
1 Spindown life counter

Look for these great cards:
...to be announced!

Set Name: Strixhaven: School of Mages
Number of Cards: 275
Configuration: 5 packs per box, 15 cards per pack
Effective December 26th, Crackerjack Stadium is offering curbside pick-up only. Please call us at 289-820-5453 to order or shop online. Face coverings are required for pick-up. Retail hours are Mon-Sat 12-5pm EST. Thank you for your support and please stay safe.