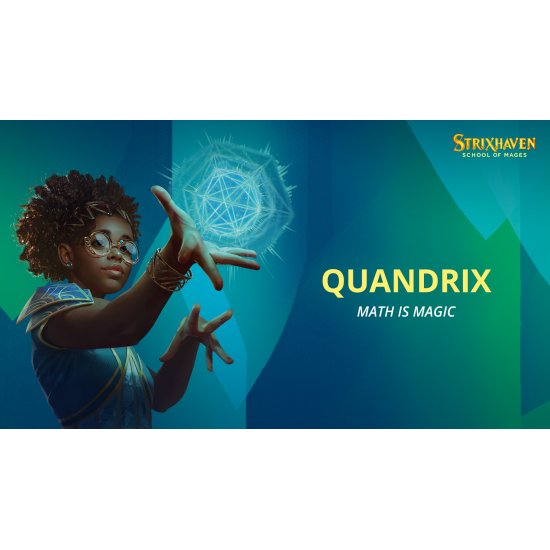 Magic: The Gathering Strixhaven: School of Mages Commander Deck - Quantum Quandrix
| | |
| --- | --- |
| Product Code: | MTG-STX-COMMANDER-QUANDRIX |
| Brand: | Wizards of the Coast |
| Availability: | 6 |
| Shipping: | Ships worldwide via Canada Post |
Reduced-plastic packaging
100-Card deck
10 Double-sided tokens
1 Life Wheel
Magic: The Gathering Strixhaven: School of Mages Commander Deck - Quantum Quandrix

Welcome to Strixhaven: School of Mages!
Here you will study magic under one of the five colleges: Silverquil, Lorehold, Prismari, Witherbloom & Quandrix. Each dorm represents one of Magic's two-color combinations, each with their own personality and mechanics. Learn from the best professors and explore Strixhaven's huge library!

Contents:
Reduced-plastic packaging
100-Card deck
10 Double-sided tokens
1 Life Wheel

Look for these great cards:
...to be announced!

Set Name: Strixhaven: School of Mages
Number of Cards: 275