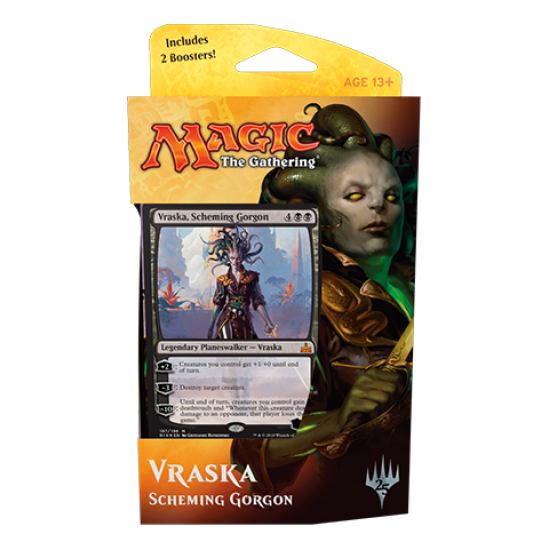 Magic: The Gathering Rivals of Ixalan Planeswalker Deck - Vraska
| | |
| --- | --- |
| Product Code: | MTG-RIX-PLANESWALKER-VRASKA |
| Brand: | Wizards of the Coast |
| Availability: | 0 |
| Shipping: | Ships worldwide via Canada Post |
1 Ready-to-play 60-card deck, featuring a foil premium Planeswalker card
2 Rivals of Ixalan booster packs
1 Strategy insert
1 Magic learn-to-play guide
Magic: The Gathering Rivals of Ixalan Planeswalker Deck - Vraska

Deep in the heart of Ixalan's verdant jungle lies a treasure beyond imagining. Secure in the ancient golden city of Orazca, the Immortal Sun is an artifact of mythic power that promises boundless wealth, the strength of empire, command over nature, and eternal life. For centuries it was only dimly remembered, veiled in legend, but now legend has become reality, and all the peoples of Ixalan seek the Immortal Sun and the power it promises. They will stop at nothing to claim it for their own.

The mysterious Planeswalker Vraska wields a suite of deadly spells that suit her gorgon nature. She specializes in assassination, stealth, and petrification—and she likes to take souvenirs. The dragon Planeswalker Nicol Bolas has hired her to come to Ixalan and find the Immortal Sun. Of course, if she fails in this mission, she will be trapped on this plane forever.

Contents:
1 Ready-to-play 60-card deck, featuring a foil premium Planeswalker card
2 Rivals of Ixalan booster packs
1 Strategy insert
1 Magic learn-to-play guide

Set Name: Rivals of Ixalan
Number of Cards: 196
Crackerjack Stadium will be opening for in-store retail beginning Sep 1st! Retail hours will be Mon-Sat 12-5. Currently we will only be allowing 4 customers in the store at one time. We will be implementing a strict cleaning protocol and will be complying with all Ontario Health & Safety Guidelines. In-store items for sale will include all Sealed Product and supplies only. All singles by preorder only.