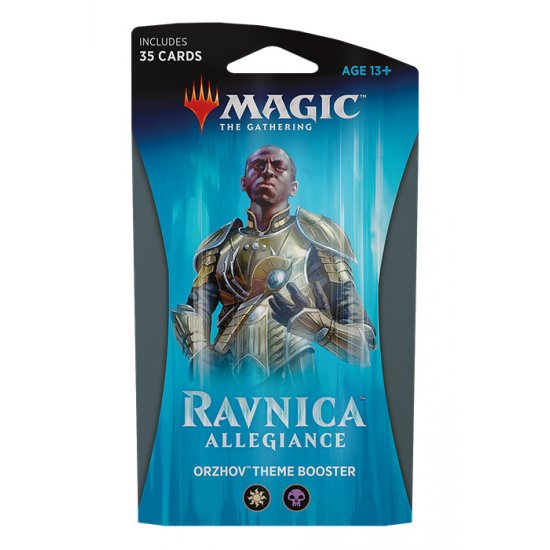 Magic: The Gathering Ravnica Allegiance Guild Kit - Orzhov
Product Code:
MTG-RNA-GUILDKIT-ORZHOV
Brand:
Wizards of the Coast
Availability:
1
Shipping:
Ships

within Canada only

via Canada Post
60 Card Orzhov Deck featuring cards from all three Ravnica blocks, plus special Orzhov basic lands.
Orzhov symbol sticker
Orzhov Pin
Orzhov Spindown life counter
Magic: The Gathering Ravnica Allegiance Guild Kit - Orzhov

Ravnica is a city large enough to span an entire world. It is ruled by ten separate magical guilds, each of which oversees a different aspect of the city with its own unique personality and outlook on life.

The Orzhov Syndicate (White/Black) - Not even in death can you escape a debt owed to the Orzhov. This once devout religious group has become poisoned by greed and the promise of immortality. Any who wish to stand in their way shall feel their wrath in life and in eternity.

Contents:
60 Card Orzhov Deck featuring cards from all three Ravnica blocks, plus special Orzhov basic lands.
Orzhov symbol sticker
Orzhov Pin
Orzhov Spindown life counter

Set Name: Ravnica Allegience
Number of Cards: 264
Crackerjack Stadium will be opening for in-store retail beginning Monday June 8th! Retail hours will be Mon-Friday 12-5 and Saturday 10-5. Currently we will only be allowing 4 customers in the store at one time. We will be implementing a strict cleaning protocol and will be complying with all Ontario Health & Safety Guidelines. In-store items for sale will include all Sealed Product and supplies only. All singles by preorder only.