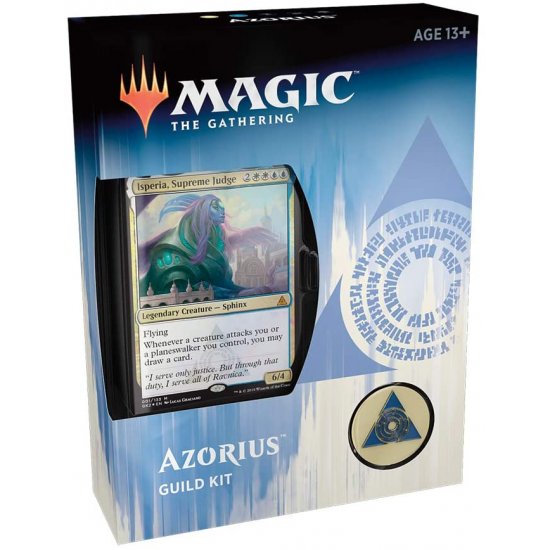 Magic: The Gathering Ravnica Allegiance Guild Kit - Azorius
Product Code:
MTG-RNA-GUILDKIT-AZORIUS
Brand:
Wizards of the Coast
Availability:
2
Shipping:
Ships

within Canada only

via Canada Post
60 Card Azorius Deck featuring cards from all three Ravnica blocks, plus special Azorius basic lands
Azorius symbol sticker
Azorius Pin
Azorius Spindown life counter
Magic: The Gathering Ravnica Allegiance Guild Kit - Azorius

Ravnica is a city large enough to span an entire world. It is ruled by ten separate magical guilds, each of which oversees a different aspect of the city with its own unique personality and outlook on life.

The Azorius Senate (Blue/White) -The High Judges of Ravnican Law. To fight beside the Azorius is to fight for justice, peace and equality. Be warned, not all law's passed by the Azorius benefit all of Ravnica, but they do benefit themselves.

Contents:
60 Card Azorius Deck featuring cards from all three Ravnica blocks, plus special Azorius basic lands
Azorius symbol sticker
Azorius Pin
Azorius Spindown life counter

Set Name: Ravnica Allegience
Number of Cards: 264
Effective December 26th, Crackerjack Stadium is offering curbside pick-up only. Please call us at 289-820-5453 to order or shop online. Face coverings are required for pick-up. Retail hours are Mon-Sat 12-5pm EST. Thank you for your support and please stay safe.