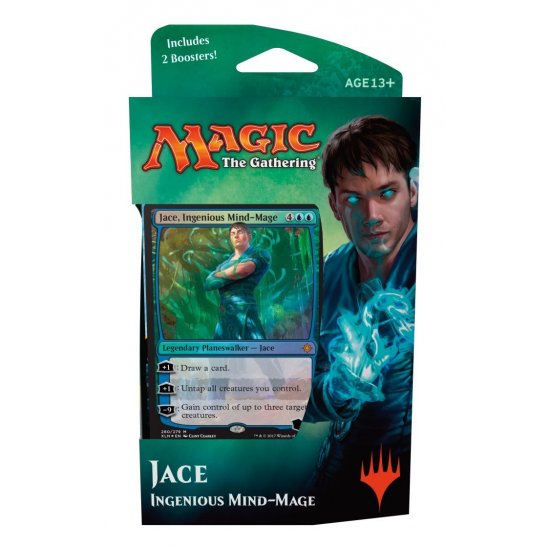 Magic: The Gathering Ixalan Planeswalker Deck - Jace
Product Code:
MTG-XLN-PLANESWALKER-JACE
Brand:
Wizards of the Coast
Availability:
6
Shipping:
Ships

within Canada only

via Canada Post
Ready-to-play 60-card deck, featuring a foil premium Planeswalker card
2 Ixalan booster packs
1 Strategy insert
1 Magic learn-to-play guide
Magic: The Gathering Ixalan Planeswalker Deck - Jace

A whole world waits to be discovered. Ancient ruins from the Sun Empire's heyday can now be found, overgrown and half-buried, in the depths of the jungle. Sacred springs infused with magical power well up from high mountainsides. Hidden coves hold pirate treasures stowed by captains long forgotten. Brave explorers from all four peoples uncover such sites as they scour Ixalan in search of the golden city.

Will you choose Jace, Ingenious Mind-Mage or Huatli, Dinosaur Knight? Try them both with these two battle-ready decks featuring 8 new-to-Magic cards!

Contents:
Ready-to-play 60-card deck, featuring a foil premium Planeswalker card
2 Ixalan booster packs
1 Strategy insert
1 Magic learn-to-play guide
Effective December 26th, Crackerjack Stadium is offering curbside pick-up only. Please call us at 289-820-5453 to order or shop online. Face coverings are required for pick-up. Retail hours are Mon-Sat 12-5pm EST. Thank you for your support and please stay safe.