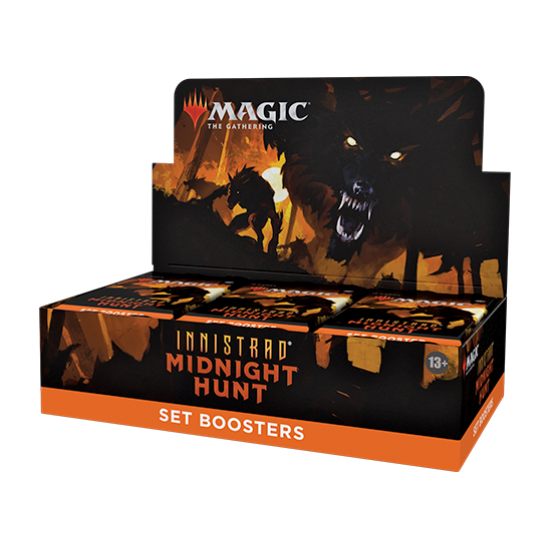 Magic: The Gathering Innistrad: Midnight Hunt Set Booster Box, 30/Pack PreOrder
| | |
| --- | --- |
| Product Code: | MTG-MID-SETBOX |
| Brand: | Wizards of the Coast |
| Availability: | 8 |
| Shipping: | Ships worldwide via Canada Post |
30 Innistrad: Midnight Hunt Set Boosters
Magic: The Gathering Innistrad: Midnight Hunt Set Booster Box, 30/Pack

Ten years ago, Magic: The Gathering released Innistrad: a gothic horror-inspired set that would go on to become one of the most beloved in the game. Innistrad featured powerful cards, flavorful top-down designs, and an incredibly popular draft environment. It was so popular and so well-received that the plane of Innistrad has since cemented itself as a cornerstone of the Magic world — a deep well that we could return to again and again.

Contains:
30 Innistrad: Midnight Hunt Set Boosters

Look for these great cards:
...to be announced!

Set Name: Innistrad: Midnight Hunt
Number of Cards: 277
Configuration: 30 packs per box, 12 cards per pack