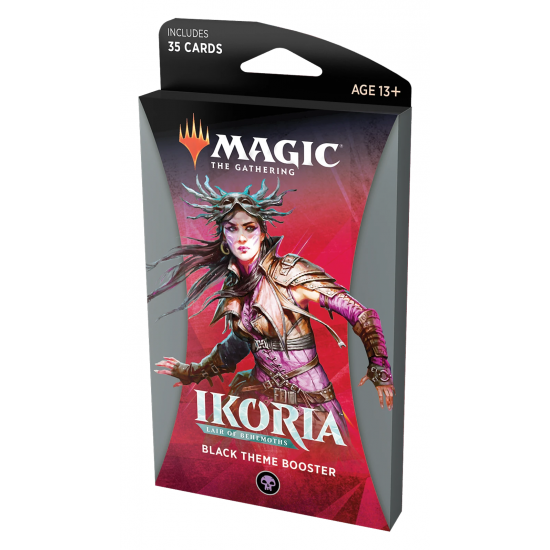 Magic: The Gathering Ikoria: Lair of Behemoths Black Theme Booster
Product Code:
MTG-IKO-BLACK
Brand:
Wizards of the Coast
Availability:
6
Shipping:
Ships

within Canada only

via Canada Post
35 Cards from Ikoria: Lair of Behemoths, all based on a single color
1 Rare or mythic rare
Magic: The Gathering Ikoria: Lair of Behemoths Black Theme Booster

On the treacherous world of Ikoria, gargantuan beasts fight for survival while humans hide at the bottom of the food chain—forever in fear of the creatures beyond the walls and the human traitors known as "bonders" who believe the monsters misunderstood. Will you fight the behemoths at your door, or fight alongside them?
These larger booster packs are full of cards all based on a single theme, like a color or color pair—and, for Ikoria, monsters! Players who are looking to build their specific deck but still love the surprise of opening booster packs will love the Theme Booster.

Contents:
35 Cards from Ikoria: Lair of Behemoths, all based on a single color
1 Rare or mythic rare

Set Name: Ikoria: Lair of Behemoths
Number of Cards: 274
Crackerjack Stadium will be opening for in-store retail beginning Sep 1st! Retail hours will be Mon-Sat 12-5. Currently we will only be allowing 4 customers in the store at one time. We will be implementing a strict cleaning protocol and will be complying with all Ontario Health & Safety Guidelines. In-store items for sale will include all Sealed Product and supplies only. All singles by preorder only.