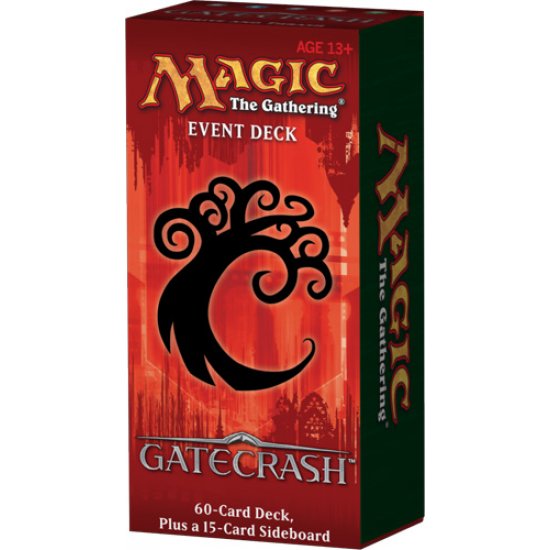 Magic: The Gathering Gatecrash Event Deck - Thrive and Thrash
| | |
| --- | --- |
| Product Code: | MTG-GTC-THRIVEANDTHRASH |
| Brand: | Wizards of the Coast |
| Availability: | 2 |
| Shipping: | Ships worldwide via Canada Post |
Includes a tournament-ready 60-card deck plus a 15-card "sideboard" to swap in as needed
Spindown life counter
Magic strategy guide
Magic: The Gathering Gatecrash Event Deck - Thrive and Thrash

Tensions build on the city-world of Ravnica, where guilds vie to outsmart their opponents and further their own agendas.

The Simic Combine has a new agenda for a new era: reclaim the recently uncovered seas and then restore the Ravnican wilderness. The "Thrive and Thrash" deck opens the game with a focused effort to quickly develop its available mana. Once you've assembled massive amounts of mana generation, follow through with gigantic monsters and game-winning spells. Your opponents will be helpless against the sheer power of your late-game plays.

Contents:
Includes a tournament-ready 60-card deck plus a 15-card "sideboard" to swap in as needed
Spindown life counter
Magic strategy guide

Set Name: Gatecrash
Number of Cards: 249
Effective December 26th, Crackerjack Stadium is offering curbside pick-up only. Please call us at 289-820-5453 to order or shop online. Face coverings are required for pick-up. Retail hours are Mon-Sat 12-5pm EST. Thank you for your support and please stay safe.