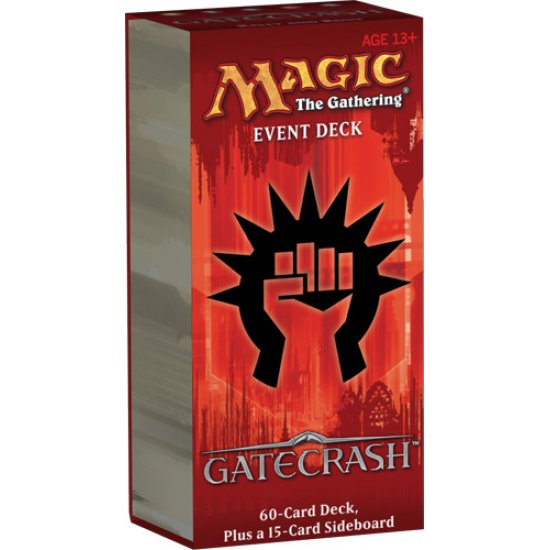 Magic: The Gathering Gatecrash Event Deck - Rally and Rout
| | |
| --- | --- |
| Product Code: | MTG-GTC-RALLYANDROUT |
| Brand: | Wizards of the Coast |
| Availability: | 3 |
| Shipping: | Ships worldwide via Canada Post |
Includes a tournament-ready 60-card deck plus a 15-card "sideboard" to swap in as needed
Spindown life counter
Magic strategy guide
Magic: The Gathering Gatecrash Event Deck - Rally and Rout

Tensions build on the city-world of Ravnica, where guilds vie to outsmart their opponents and further their own agendas.

The Boros Legion marches in lockstep across the battlefield. Individually, the troops are disciplined and capable. As a unit, the battalion is nearly unstoppable. The "Rally and Rout" deck hits the ground running with cheap, aggressive creatures. But your assault really kicks into overdrive once you assemble a squad of three or more creatures. At that point, every attack is an overwhelming military exercise. Once your ground troops have softened up your opponent, your battery of long-range burn spells is more than adequate to finish the job.

Contents:
Includes a tournament-ready 60-card deck plus a 15-card "sideboard" to swap in as needed
Spindown life counter
Magic strategy guide

Set Name: Gatecrash
Number of Cards: 249
Crackerjack Stadium will be opening for in-store retail beginning Sep 1st! Retail hours will be Mon-Sat 12-5. Currently we will only be allowing 4 customers in the store at one time. We will be implementing a strict cleaning protocol and will be complying with all Ontario Health & Safety Guidelines. In-store items for sale will include all Sealed Product and supplies only. All singles by preorder only.