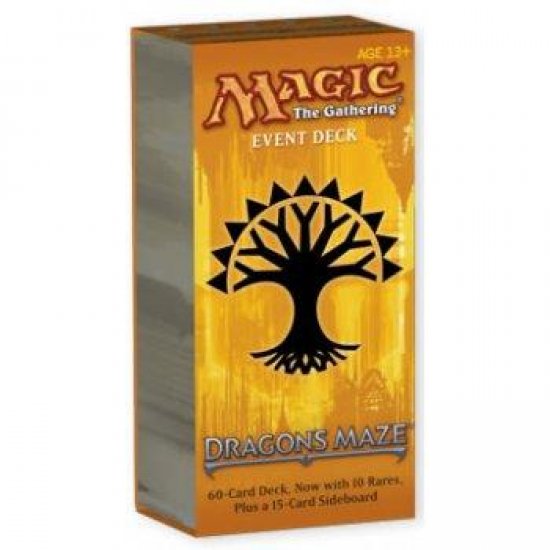 Magic: The Gathering Dragon's Maze Event Deck - Strength of Selesnya
| | |
| --- | --- |
| Product Code: | MTG-DGM-STRENGTHOFSELESNYA |
| Brand: | Wizards of the Coast |
| Availability: | 0 |
| Shipping: | Ships worldwide via Canada Post |
Includes a tournament-ready 60-card deck plus a 15-card "sideboard" to swap in as needed
Spindown life counter
Magic strategy guide
Magic: The Gathering Dragon's Maze Event Deck - Strength of Selesnya

A massive puzzle spans the city-world of Ravnica, and all ten guilds race to be the first to crack the mystery. Rumors abound that whoever navigates the maze of clues could command world-shaking power. Will your guild take the prize?

From its guildhome Vitu-Ghazi, the Selesnya Conclave engages in a relentless campaign of growth, sending its tendrils out into the never-ending streets of the Ravnican metropolis. With the Strength of Selesnya deck, you sow the field of battle with a variety of troops, many of them creature tokens. Then you can grow a mighty army using populate effects, which give you another a copy of one of your creature tokens. And finally, as your forces stretch to the horizon, your enemy will crumble in the face of your relentless expansion.

Contents:
Includes a tournament-ready 60-card deck plus a 15-card "sideboard" to swap in as needed
Spindown life counter
Magic strategy guide

Set Name: Dragon's Maze
Number of Cards: 156
Effective December 26th, Crackerjack Stadium is offering curbside pick-up only. Please call us at 289-820-5453 to order or shop online. Face coverings are required for pick-up. Retail hours are Mon-Sat 12-5pm EST. Thank you for your support and please stay safe.