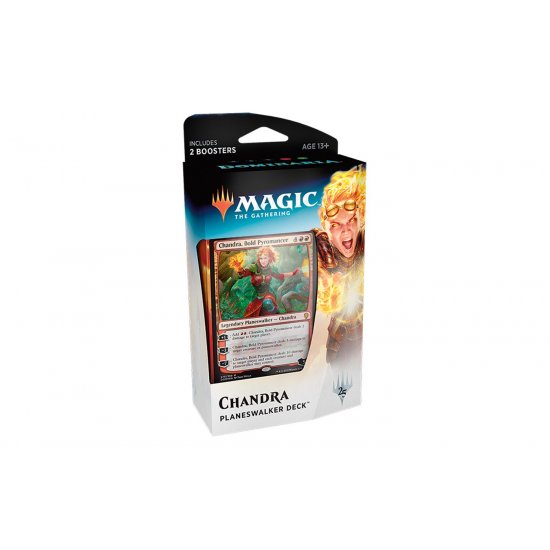 Magic: The Gathering Dominaria Planeswalker Deck - Chandra
Product Code:
MTG-DOM-PLANESWALKER-CHANDRA
Brand:
Wizards of the Coast
Availability:
4
Shipping:
Ships

within Canada only

via Canada Post
1 Ready-to-play 60-card deck featuring a foil premium Planeswalker card
2 Dominaria booster packs
1 Strategy insert
1 Magic learn-to-play guide
Magic: The Gathering Dominaria Planeswalker Deck - Chandra

Dominaria is home to a rich variety of terrain—cold mountains, wide plains, jungles, deserts, islands—this plane boasts countless historic locations, from the volcanic continent of Shiv to the time-shattered isle of Tolaria to the wretched island of Urborg.

Dominaria Planeswalker Decks are ready-to-play preconstructed Standard-legal decks. There are two versions (Teferi and Chandra). Each contain an additional two Dominaria booster packs, and four cards exclusive to the Planeswalker Decks (that can't be find in Dominaria booster packs).

Contents:
1 Ready-to-play 60-card deck featuring a foil premium Planeswalker card
2 Dominaria booster packs
1 Strategy insert
1 Magic learn-to-play guide

Set Name: Dominaria
Number of Cards: 269
Crackerjack Stadium will be opening for in-store retail beginning Sep 1st! Retail hours will be Mon-Sat 12-5. Currently we will only be allowing 4 customers in the store at one time. We will be implementing a strict cleaning protocol and will be complying with all Ontario Health & Safety Guidelines. In-store items for sale will include all Sealed Product and supplies only. All singles by preorder only.