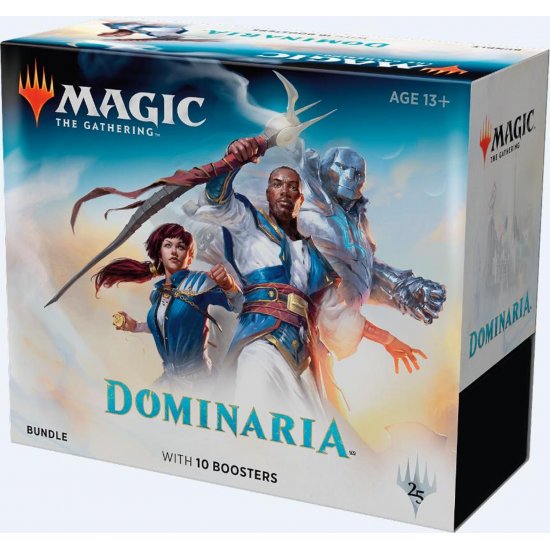 Magic: The Gathering Dominaria Bundle
| | |
| --- | --- |
| Product Code: | MTG-DOM-BUNDLE |
| Brand: | Wizards of the Coast |
| Availability: | 5 |
| Shipping: | Ships worldwide via Canada Post |
10 Dominaria booster packs
1 Card box
1 Player's Guide with complete visual encyclopedia for Dominaria
80 Basic land cards
1 Magic learn-to-play guide
1 Spindown life counter
2 Deck boxes
Magic: The Gathering Dominaria Bundle

Dominaria is home to a rich variety of terrain—cold mountains, wide plains, jungles, deserts, islands—this plane boasts countless historic locations, from the volcanic continent of Shiv to the time-shattered isle of Tolaria to the wretched island of Urborg.

The Dominaria Bundle lets engaged players dive into the new set, with boosters to help update their decks for the new Standard environment, plus a Player's Guide with complete visual encyclopedia for Magic's latest setting.

Contents:
10 Dominaria booster packs
1 Card box
1 Player's Guide with complete visual encyclopedia for Dominaria
80 Basic land cards
1 Magic learn-to-play guide
1 Spindown life counter
2 Deck boxes

Set Name: Dominaria
Number of Cards: 269
Configuration: 10 packs per bundle, 15 cards per pack
Effective December 26th, Crackerjack Stadium is offering curbside pick-up only. Please call us at 289-820-5453 to order or shop online. Face coverings are required for pick-up. Retail hours are Mon-Sat 12-5pm EST. Thank you for your support and please stay safe.