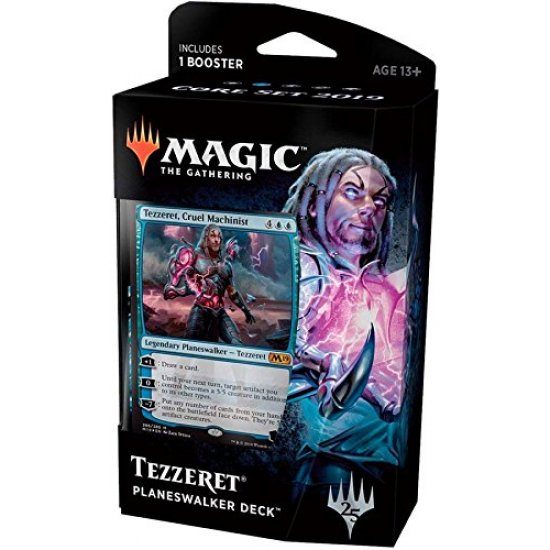 Magic: The Gathering 2019 Core Set Planeswalker Deck - Tezzeret
Product Code:
MTG-M19-PLANESWALKER-TEZZERET
Brand:
Wizards of the Coast
Availability:
0
Shipping:
Ships

within Canada only

via Canada Post
1 Ready-to-play 60-card deck featuring a foil Planeswalker card
1 Core Set 2019 booster pack
1 Strategy insert
1 Magic learn-to-play guide
Magic: The Gathering 2019 Core Set Planeswalker Deck - Tezzeret

Twin sisters on Tarkir must overcome fear, doubt, and jealousy to discover the entwined origin of two Elder Dragons.

Planeswalker Decks familiarize players who are interested in Magic with basic strategy as well as the setting, characters, and themes of the latest set. Each deck comes with a premium foil Planeswalker card that is likely to appeal to both newer and veteran players.

Contents:
1 Ready-to-play 60-card deck featuring a foil Planeswalker card
1 Core Set 2019 booster pack
1 Strategy insert
1 Magic learn-to-play guide

Set Name: Core Set 2019
Number of Cards: 280
Crackerjack Stadium will be opening for in-store retail beginning Sep 1st! Retail hours will be Mon-Sat 12-5. Currently we will only be allowing 4 customers in the store at one time. We will be implementing a strict cleaning protocol and will be complying with all Ontario Health & Safety Guidelines. In-store items for sale will include all Sealed Product and supplies only. All singles by preorder only.