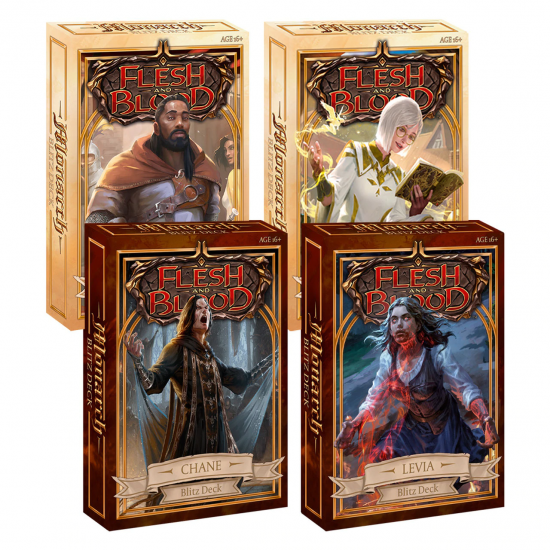 Flesh and Blood: Monarch Blitz Decks Set of 4
| | |
| --- | --- |
| Product Code: | FAB-MONARCH-BLITZ-SET |
| Brand: | Legend Story Studios |
| Availability: | 12 |
| Shipping: | Ships worldwide via Canada Post |
40 cards, plus hero, weapon, and equipment cards, per deck.
Set of 4: Includes one of each theme deck available (4 total)
Flesh and Blood: Monarch Blitz Decks Set of 4

Darkness, the canvas of the universe. Light, the brushstroke of creation. A forbidden power hungers to eclipse existence, wiping the canvas clean. The soul of Rathe stands resolute, a ray of hope to the artisans of civilization.
Ready-to-play out of the box, Blitz decks are crafted to be a perfect introduction to Flesh and Blood and the heroes of Monarch, suitable for new and experienced players alike.

Contents:
40 cards, plus hero, weapon, and equipment cards, per deck.
Set of 4: Includes one of each theme deck available (4 total)

Set Name: Monarch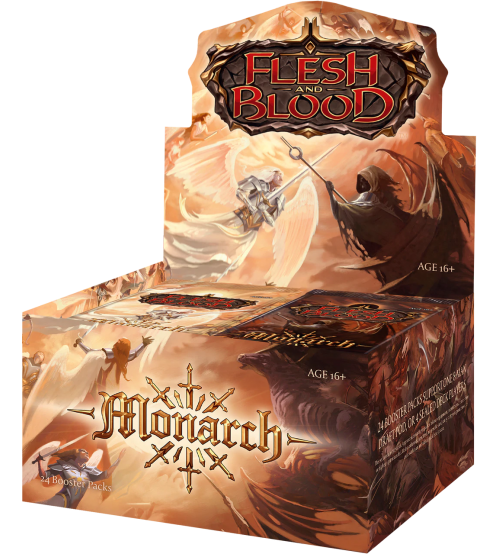 Effective December 26th, Crackerjack Stadium is offering curbside pick-up only. Please call us at 289-820-5453 to order or shop online. Face coverings are required for pick-up. Retail hours are Mon-Sat 12-5pm EST. Thank you for your support and please stay safe.