Ultimate Guard Flip'n'Tray™ Mat Case, Green
| | |
| --- | --- |
| Product Code: | UGD010673 |
| Brand: | Ultimate Guard |
| Availability: | 2 |
| Shipping: | Ships worldwide via Canada Post |
Ultimate Guard Flip'n'Tray™ Mat Case is a premium play-mat carrying and storage case with XenoSkin™ cover material, magnetic closure and removable accessory tray. The luxury home for your Play-Mat measures approx. 40.5 x 7 x 7.8 cm and is ideal for housing all standard-sized play-mats
Ultimate Guard Flip'n'Tray™ Mat Case, Green
Ultimate Guard's Flip'n'Tray™ Mat Case is a premium play-mat carrying and storage case with XenoSkin™ cover material, magnetic closure and removable accessory tray. The luxury home for your Play-Mat measures approx. 40.5 x 7 x 7.8 cm and is ideal for housing all standard-sized play-mats.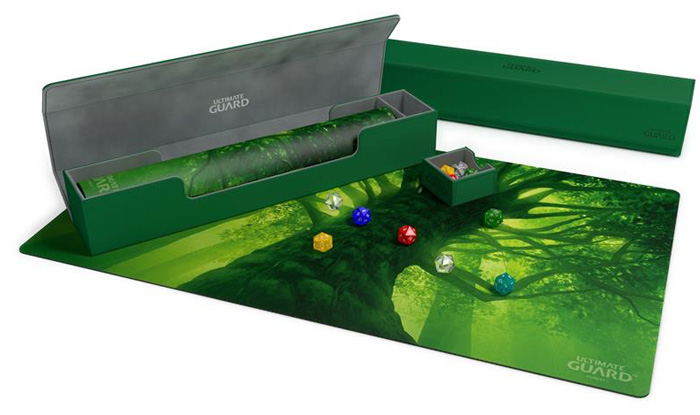 Removable dice tray
The tray can be removed from the box for easy and convenient access to your dice and accessories
Extra easy access
When fully opened, the 3-fold lid leaves the box open to both sides for extra easy access
Premium material
Premium microfibre inner lining
XenoSkin™ texture
Innovative cover material with anti-slip texture
Very strong closure
4 magnets for a precise and robust closure
Durable and rigid box
Super rigid double-layer skin for maximum protection
Specifications
Dimensions: 405 x 70 x 78 mm
Main compartment (inner dimension): 372 x 60 x 59.5 mm
Dice compartment (inner dimension): 33 x 60 x 59.5 mm
Dice Tray (inner dimension): 50 x 50 x 28 mm
Effective December 26th, Crackerjack Stadium is offering curbside pick-up only. Please call us at 289-820-5453 to order or shop online. Face coverings are required for pick-up. Retail hours are Mon-Sat 12-5pm EST. Thank you for your support and please stay safe.