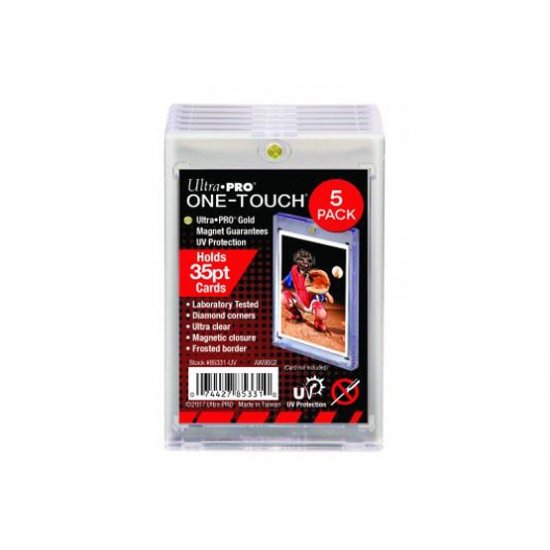 Ultra PRO ONE-TOUCH Magnetic Card Holder, Standard 35pct (5/Pack)
| | |
| --- | --- |
| Product Code: | 85331-UV |
| Brand: | Ultra PRO |
| Availability: | 0 |
| Shipping: | Ships worldwide via Canada Post |
Pack Includes 5 Individual 35PT One Touches
Designed to Hold Cards up to 35PT in Thickness
Slide-In Hinge and Magnetic Closure
5/Pack
Ultra PRO ONE-TOUCH Magnetic Card Holder, Standard 35pct (5/Pack)

The Ultra Pro 35PT One Touch 5 Pack contains 5 individual 35PT One Touches. Each One Touch can hold standard cards (2-1/2″ X 3-1/2″) up to 35pt in thickness.
Designed as the final destination for your collectible cards, the two-piece one touch holders are uniquely designed with slide-in hinge and magnetic closure so you'll never have to use a screwdriver again. The holder provides UV-resistant, non-PVC and acid free protection to ensure your valuable hit retains its condition while under display. One Touch holders are ideal for presenting prized and super rare sports and gaming cards.
Effective December 26th, Crackerjack Stadium is offering curbside pick-up only. Please call us at 289-820-5453 to order or shop online. Face coverings are required for pick-up. Retail hours are Mon-Sat 12-5pm EST. Thank you for your support and please stay safe.